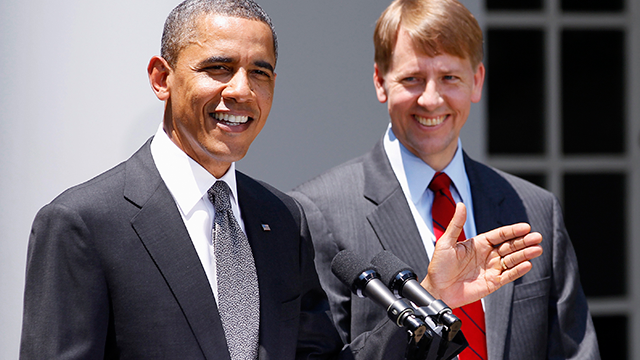 Barack Obama and Richard Cordray. (AP Photo/Manuel Balce Ceneta, File)
A letter sent to the president at the beginning of February from 43 Senate Republicans promised, once again, to oppose Richard Cordray, his pick to head the Consumer Financial Protection Bureau, when he comes up for a confirmation vote. As one of four controversial recess appointments Obama made in January 2012, Cordray will need to pass a Senate confirmation vote at the end of the year — and maybe sooner — to stay in his job. But his precarious situation hasn't kept Cordray from getting things done: Among other accomplishments, the CFPB has halted predatory practice by mortgage lenders and won an $85 million settlement with American Express.
From the beginning, Republican Senators have opposed the CFPB, a regulatory agency created by 2010's Dodd-Frank legislation to protect the public from the kind of lending practices that contributed to the financial crisis. In May 2011, nearly all Senate Republicans signed a letter, promisingthey would block any nominee to head the bureau — by filibuster, if necessary — until key structural changes were made to the agency. Obama waited half a year for the Senate to vote on Cordray's nomination before bypassing the Senate confirmation process with a recess appointment. At the same time, he appointed three nominees opposed by Republicans to the National Labor Relations Board. Last month, a federal appeals court ruled that Obama overstepped his bounds with the NLRB appointments, a decision that, if upheld by the Supreme Court, will likely extend to Cordray. Even if he is allowed to stay in his post, recess appointments only last for two years and Cordray's will expire by the end of 2013.
Today's New York Times editorial looks at why, specifically, this regulatory agency hits a nerve for Senate Republicans:
The consumer bureau has taken seriously its mandate to protect the public from the kinds of abuses that helped lead to the 2009 recession, and it has not been intimidated by the financial industry's army of lobbyists. That's what worries Republicans. They can't prevent the bureau from regulating their financial supporters. Having failed to block the creation of the bureau in the 2010 Dodd-Frank financial reform bill, they are now trying to take away its power by filibuster, and they may well succeed. Read the full editorial »