We've noticed in comments here and on Facebook that many of you have been inspired to read books written by Moyers & Company guests. We think it's wonderful (and so do our guests!) — so wonderful, in fact, that we've decided to start a Moyers Book Club. First up: Chrystia Freeland's new book, Plutocrats.
Over the next three weeks, we'll post book reviews, interviews, discussion questions and other related content to this Book Club blog. In the fourth week, we'll present a live chat with the author in which you — and your entire book club — can ask questions and share your thoughts with the author. We'll start over with a new book each month or so.
Sound good? Good!
THE FIRST BOOK:
Plutocrats: The Rise of the New Global Super Rich and the Fall of Everyone Else, by Chrystia Freeland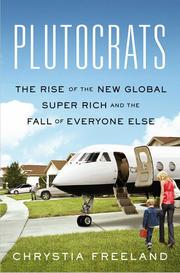 "Just in time – if not too late – comes this definitive examination of inequality in our time. I think it's the bookend to the Hacker-Pierson book, Winner-Take-All Politics. These two are essential reading for anybody who wants to understand where we are."
—Bill Moyers
"[P]rovides us with a glimpse of the lives of America's elites and a disquieting look at the society that produces them."
—Joseph Stiglitz
As the author notes on her book jacket: Forget the 1 percent, it's time to focus in on the 0.01 percent…
There has always been some gap between rich and poor, but it has never been wider than it is right now. The uber-wealthy have redefined what it means to be rich in the 21st century. Today's titans belong to a transglobal community and have more in common with each other than with their countrymen. They think nothing of dropping $3 million on a birthday party and their view of the rest of us reveals much more about them than it does about us. Freeland's insider access takes her from Davos to Dubai to interview these (mostly) self-made billionaires. Plutocrats offers a window into the psyches, lifestyles and philosophies of the super rich grounded in the history and modern-day realities of capitalism.
We hope you and your book club will enjoy reading it.
Read an excerpt »
Visit the publisher »
Watch Bill's October 2012 conversation with Freeland and Matt Taibbi »
ABOUT THE AUTHOR
Chrystia Freeland is the editor of Thomson Reuters Digital. She's written for The Financial Times, The Washington Post, The Economist, and was deputy editor of Canada's Globe and Mail newspaper. In this video, she explains why she decided to write Plutocrats, and what she hopes Moyers & Company viewers will get out it. She looks forward to talking with you about the book.