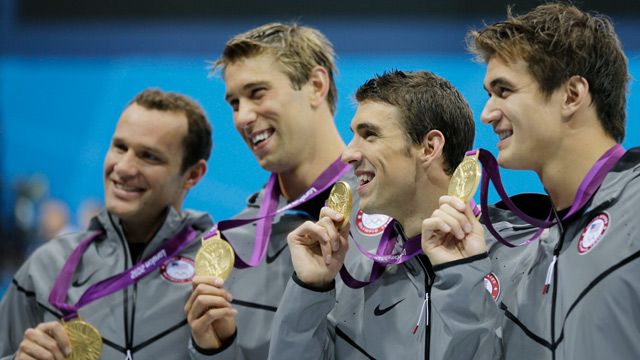 United States' men's 4 X 100-meter medley relay team from left, Brendan Hansen, Matthew Grevers, Michael Phelps and Nathan Adrian hold their gold medals at the Aquatics Centre in the Olympic Park during the 2012 Summer Olympics in London, Saturday, Aug. 4, 2012. (AP Photo/Matt Slocum)
As noted earlier, while the Olympics are supposed to be a celebration of goodwill and universal understanding, this year's Games in London have drawn American politicians as bees to honey, all maneuvering for position in the hope that the allure of Olympic gold can be used to partisan advantage.
But the prize for the furthest stretch jointly goes to conservative activist Grover Norquist and Senator Marco Rubio of Florida.
On July 31, Norquist's Americans for Tax Reform breathlessly announced, "U.S. Olympic medal winners will owe up to $9,000 to the IRS… While 529 hardworking athletes proudly represent the United States in the 2012 Olympics, any medals and money they earn wearing red, white and blue will be taxed by the IRS…
"It gets even worse. Not only do our Olympic athletes have to pay taxes on their medals and prizes – chances are their competitors on the field will face no such taxation when they get home. Because the U.S. is virtually the only developed nation that taxes 'worldwide' income earned overseas by its taxpayers, our Olympic athletes face a competitive disadvantage that has nothing to do with sports."
The very next day, ABC News reported, Senator Rubio introduced a bill "that would exempt U.S. Olympic medal winners from paying federal taxes on their medals and prize money earned in the Olympics."
"'Our tax code is a complicated and burdensome mess that too often punishes success, and the tax imposed on Olympic medal winners is a classic example of this madness,' Rubio said in a paper statement today announcing his legislation. 'Athletes representing our nation overseas in the Olympics shouldn't have to worry about an extra tax bill waiting for them back home… We can all agree that these Olympians who dedicate their lives to athletic excellence should not be punished when they achieve it.'"
Problem is, according to Politico's Alex Seitz-Wald, who contacted the United States Olympic Committee, "the medals aren't subject to taxes." Further, the Tampa Bay Times's Politifact reports, "the experts we spoke to suggested that a $9,000 tax payment was unrealistically high. For most athletes, the payment will be less, and possibly quite a bit less…"
"Americans for Tax Reform is correct that gold medalists' winnings are taxable, and it provides some leeway by saying that U.S. winners could be taxed up to $9,000…

"Any accountant worth their salt should be able to get the rate of tax on medal winnings much below $9,000, and maybe even to zero. We rate the statement Mostly False."
What's more, according to a headline at the website ThinkProgress,"Rubio's Olympic Medal Bill Would Give Michael Phelps Hundreds of Thousands of Dollars in Tax Breaks." A loophole in the Rubio legislation would allow sports agents to tie Senator Rubio's exemption to big cash bonuses:
"In effect, a decent lawyer or tax accountant would be able to craft endorsement deals in a way that make large sums of compensation seem tied to Olympic performance, giving athletes like Phelps and [Ryan] Lochte huge tax breaks, all due to some faux outrage on the part of conservative tax activists."
Meanwhile, Bloomberg BusinessWeek reports that while the deluge of Olympics coverage is a boon for fans, "digital media company Captivate Network estimates that Olympics-related distractions will result in a $1.38 billion loss in productivity for U.S. companies, up from its previous estimate of $650 million, due to unexpectedly high viewership.
"The biggest distractions: Captivate says among the 27 percent of surveyed people who say they watch Olympic events during the workday, swimming is the most viewed sport, followed by gymnastics, beach volleyball, and diving. Captivate surveyed 355 people in the U.S. on Aug. 1. (All-day data from NBC show that on its cable networks, including Bravo, archery is now the most watched sport, possibly due to a boost in interest from The Hunger Games as well as popular American archer Brady Ellison. Jeremy Renner's Nighthawk, the non-superpowered archer character he plays in The Avengers, may also have had an impact, but it's unlikely.)"
By the way, if the boss says stop watching wall-to-wall Olympics coverage — and speaking of Grover Norquist — drop your quiver and bow and use your coffee break to check out Stephen Colbert's latest on the conservative lobbyist's mystical powers.