Just a few months after public outrage forced Bank of America to drop a planned $5 fee for using debit cards to make purchases, the financial institution is at it again.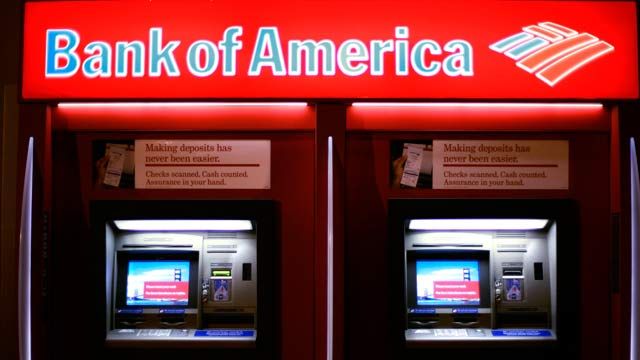 A night scene of a Bank of America ATM on K Street NW in Washington, Thursday, Nov. 30, 2006. (AP Photo/J. Scott Applewhite)
On March 1, The Wall Street Journal reported that the second largest bank in the country "is working on sweeping changes that would require many users of basic checking accounts to pay a monthly fee unless they agree to bank online, buy more products or maintain certain balances…
"Bank of America pilot programs in Arizona, Georgia and Massachusetts now are experimenting with charging $6 to $9 a month for an 'Essentials' account. Other account options being tested in those states carry monthly charges of $9, $12, $15 and $25 but give customers opportunities to avoid the payments by maintaining minimum balances, using a credit card or taking a mortgage with Bank of America, according to a memo distributed to employees."

Quentin Fottrell of SmartMoney.com writes:
"This could be even worse than the debit card fee debacle, some contend. With the earlier $5 fee, customers could still choose to abandon their debit cards, but giving up a checking account really isn't an option. Ironically, free checking accounts had been subsidized in part by the transaction fees charged to merchants each time a debit card was used, says Ben Woolsey, spokesman for CreditCards.com. Now that those transaction fees have been reduced, the subsidy is going in reverse: customer checking fees are being used to cover the cost of debit cards, he says."
Those fees were reduced under restrictions imposed by the Dodd-Frank Wall Street Reform and Consumer Protection Act. Banks are insisting they need to find ways to make up for the resulting loss of revenue, but politicians and the public are pushing back. According to the Journal, shortly after the announcement of the new proposed Bank of America checking account fees, Massachusetts Secretary of the Commonwealth William Galvin issued a statement "slamming the reported plan and proposing a law that will bar the state from putting money in banks that put in place fees that hurt customers."
Others observe that this could cause even more customers to move their accounts into smaller banks and non-profit credit unions, as happened last year after the Bank of America debit card fee fiasco, and at the urging of the Occupy Wall Street movement. The March 2 Los Angeles Times noted, "Consumers fed up with the rising tide of bank fees helped the nation's credit unions more than double their number of new customers last year… More than 1.3 million Americans opened new credit union accounts last year, up from less than 600,000 in 2010, the National Credit Union Administration reported. That brings the number of credit union members to a record 91.8 million…
"'We're going to be playing bank fee Whack-a-Mole for the foreseeable future,' Fred R. Becker, chief executive of the National Assn. of Federal Credit Unions said Thursday. Ultimately, he added, 'people are going to switch' to credit unions."
On the same day that news of the latest Bank of America proposal came out, the recently created Consumer Financial Protection Bureau announced that the public can now  file complaints with the agency about alleged bank abuses of checking and other deposit accounts. This is the third phase of a system that already has handled more than 20,000 complaints about credit cards and disputes over mortgage foreclosures and billings.
Richard Cordray, director of the Bureau, said, "Deposit accounts play a critical role in the lives of most Americans, but these products and the laws governing them are complicated. Consumers need someone on their side to keep banks and credit unions accountable — that is our job at the Consumer Bureau."
You can file a complaint at consumerfinance.gov. Or they can call, Monday-Friday, from 8 am-8 pm, ET:
(855) 411-CFPB (2372)
Español (855) 411-CFPB (2372)
TTY/TDD (855) 729-CFPB (2372)
You can also send or fax a letter to:
Consumer Financial Protection Bureau
P.O. Box 4503
Iowa City, Iowa 52244
Fax (855) 237-2392