Friday's Washington Post reported that the Office of Congressional Ethics is investigating Alabama Republican Spencer Bachus, chair of the House Financial Services Committee, for possible insider trading.
Bachus was Exhibit A in that 60 Minutes piece on CBS last November that cast a withering look at the investment habits of certain members of Congress.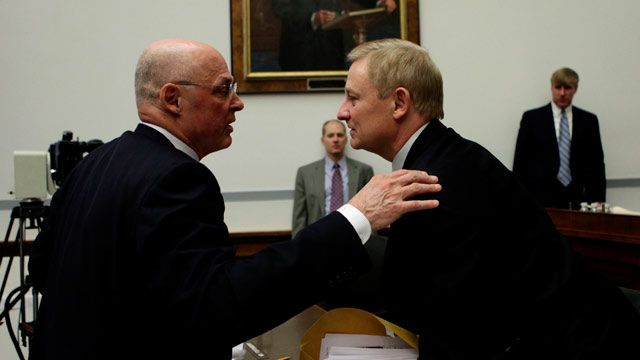 In this AP file photo, former Treasury Sec. Henry Paulson, left, talks with Rep. Spencer Bachus, R-Ala., on Capitol Hill in Washington, after testifying before the House Oversight and Government Reform Committee hearing on AIG in 2010. (AP/Pablo Martinez Monsivais)
Just before the 2008 financial meltdown, Rep. Bachus attended closed door briefings with Treasury Secretary Hank Paulson and Federal Reserve Chair Ben Bernanke. "While Congressman Bachus was publicly trying to keep the economy from cratering," 60 Minutes reported, "he was privately betting that it would, buying option funds that would go up in value if the market went down. He would make a variety of trades and profited at a time when most Americans were losing their shirts" (Bachus said the 60 Minutes account was "absolutely false").
The CBS report and the resulting public outrage resuscitated the long-moribund Stop Trading on Congressional Knowledge (STOCK) Act, which was passed overwhelmingly by the Senate on February 2 and by the House of Representatives this past Wednesday. However, Republican Majority Leader Eric Cantor and GOP leadership removed a key provision from the House bill and now a conference committee will need to reconcile the two versions.
What was excised was an amendment to the Senate bill requiring those working in the rapidly growing field of political intelligence — "in which companies seek out private congressional information to sell to financial firms looking to turn a profit on it" — to register and disclose their activity as lobbyists do.
Instead, the House bill merely calls for a study of the political intelligence industry. This dismayed the STOCK Act's original sponsor and staunchest advocate Congresswoman Louise Slaughter (D-NY). Now 82 and serving her 13th term, she's more than qualified to render judgment. Rep. Slaughter told the congressional newspaper The Hill, "We've been around long enough to know that when you say you're going to do a study that means you're going to condemn it to death."
Cantor's change also angered the White House and the amendment's sponsor, Iowa Republican Senator Chuck Grassley, who said, "It's astonishing and extremely disappointing that the House would fulfill Wall Street's wishes by killing this provision."
Ultimately, whatever comes out of conference probably will be approved by Congress and President Obama will sign it.