We were fortunate to be in the green room with Bill at The Colbert Report just before his appearance on the show Tuesday night. Stephen tipped us off to the brilliant plan announced Thursday evening — that he would be trying to run as a presidential candidate in the South Carolina primary on January 21 — or, as he put it, creating an "exploratory committee to lay the groundwork for my possible candidacy for the president of the United States of South Carolina."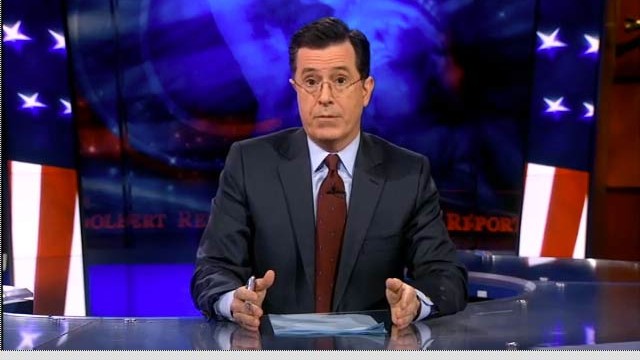 Stephen Colbert announcing his plans on Thursday night's Colbert Report.
He relinquished control of his super PAC, "Citizens for a Better Tomorrow, Tomorrow," to The Daily Show's Jon Stewart: although these political action committees can raise unlimited amounts of campaign money, it's illegal for them to consult directly with the candidate. But even if Colbert held onto his super PAC, chances are he'd be safe from doing any jail time. According to a new report from the Center for Public Integrity's iWatch News, "Criminal prosecution is theoretically possible, but highly unlikely — and even civil sanctions are rare, according to a review of Federal Election Commission actions… The regulations governing independent expenditures are so specific that unless the commissioners have a witness to one of those consultations, the FEC is unlikely to gather enough evidence to open an investigation."
ABC News and the Palmetto Public Record report that the super PAC already is buying up TV air time in Charleston and Columbia, South Carolina. Colbert's far from the first comic — a professional one at least — to run as a presidential candidate. There was the Smothers Brothers' Pat Paulsen in 1968 and our friend, columnist and satirist Marvin Kitman, who campaigned way back in 1964 and won one GOP delegate in New Hampshire. His manager was the great Victor Navasky, chair of the Columbia Journalism Review and publisher emeritus of The Nation magazine.
Kitman's campaign slogan: "I would rather be president than write."