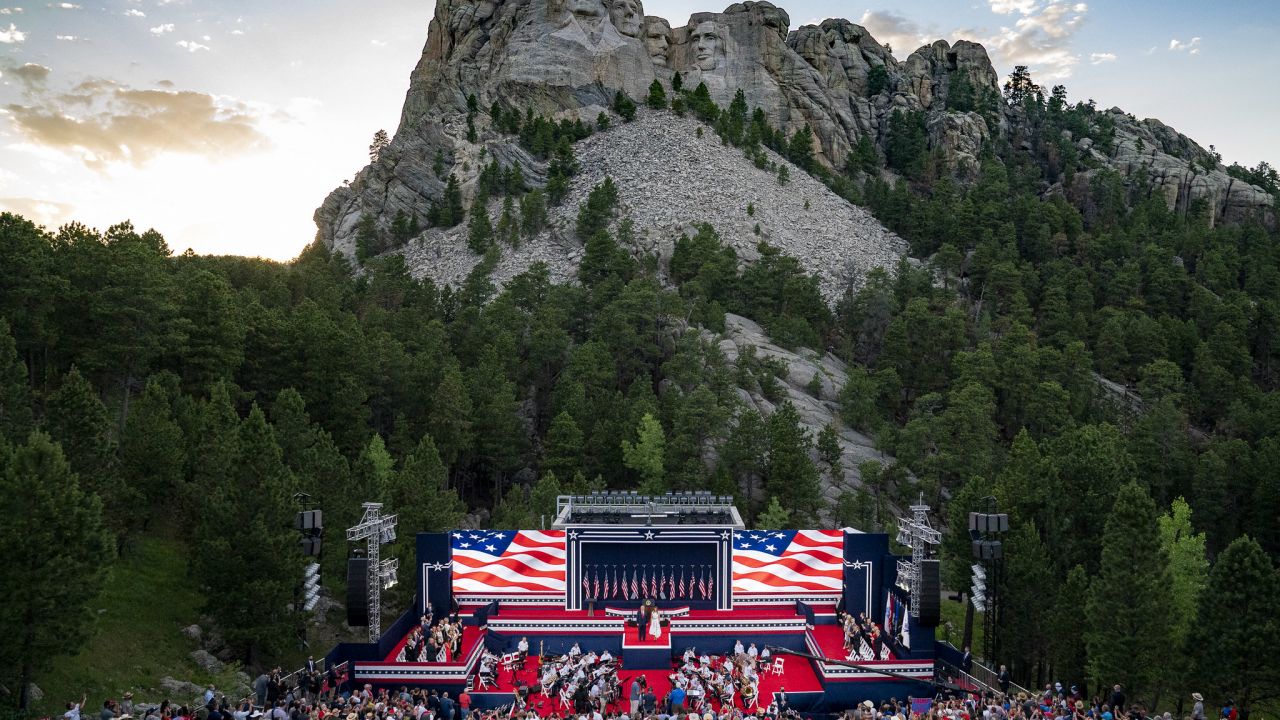 For months, dubious reports have circulated about "COVID-19 parties" where attendees ante into a pot and the winner is the first person to contract the virus. So far, reliable evidence of such events is scant — with one big exception. Trump is holding COVID-19 parties in plain sight. The participants are betting their health and that of innocent victims. But only Trump can win the pot.
Oklahoma
Going into the June 20 rally, it was public knowledge that COVID-19 infections and hospitalizations in Oklahoma, especially Tulsa, were soaring. But since then, intrepid journalists have discovered that Trump knew much more. So far, these are the damning revelations:
Prior to June 20: At the campaign's urging, Trump surrogates — including lawmakers, former lawmakers, and campaign advisers — travel to Tulsa to seed the audience at his upcoming rally. Many of his DC surrogates travel together on a chartered plane in which few wear masks.
Also prior to June 20: The Trump campaign establishes an exclusive COVID-19 testing site in Tulsa available only to his 200 staff workers, local leaders, and top supporters.
June 20: At the site of Trump's rally, the BOK Center, management affixes "do-not-sit" stickers on alternating seats to encourage social distancing. Hours before Trump's arrival, campaign staffers demand their removal.
Also on June 20: While Trump is en route to the rally, news breaks that six staffers in Tulsa have tested positive for COVID-19. Trump is livid that the news has become public. Two of the afflicted are Secret Service agents who had just attended a large planning meeting held to review logistics and individual duties for the rally. The Secret Service orders the dozens of agents involved in that meeting to self-quarantine for 14 days after returning from the trip.
Also on June 20: Only 6,200 people — less than one-third of the venue's capacity — attend the rally. Most are not wearing masks or social distancing, despite ample space for the latter. Among them is Trump surrogate Herman Cain, 74, who co-chairs Black Voices for Trump and is not wearing a mask. Cain sits in close proximity to others not wearing masks, and he tweets a photo:
Here's just a few of the #BlackVoicesForTrump at tonight's rally! Having a fantastic time!#TulsaRally2020 #Trumptulsa #TulsaTrumprally #MAGA #Trump2020 #Trump2020Landslide pic.twitter.com/27mUzkg7kL

— Herman Cain (@THEHermanCain) June 20, 2020
June 21: Back in Washington, two more staffers who were at the Tulsa rally test positive for the virus. As a result, the campaign quarantines all staffers who attended the event. Several campaign surrogates who traveled to Tulsa also undergo testing.
June 26: A journalist who attended the rally tests positive for COVID-19.
June 21-28: During the week after Trump's visit, Tulsa County reports 902 new COVID-19 cases — a 15 percent increase in confirmed infections over the week leading up to his visit.
June 29: Trump surrogate Herman Cain tests positive for COVID-19. By July 2, he requires hospitalization.
By July 4: During the two weeks following Trump's rally, COVID-19 infections in Oklahoma continue to soar, along with COVID-19 related hospitalizations: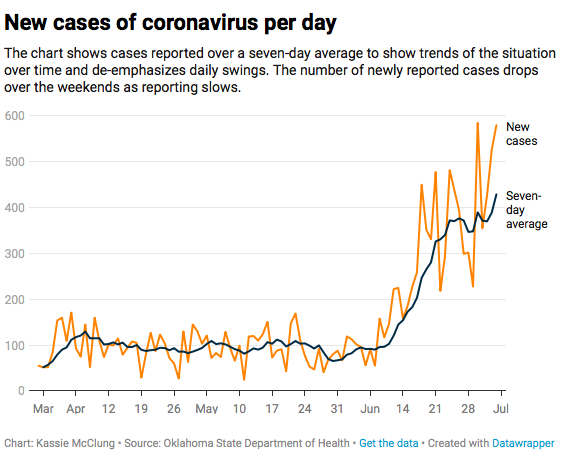 https://www.readfrontier.org/stories/interactivesmapsknowcasesoffcovid19inoklahoma/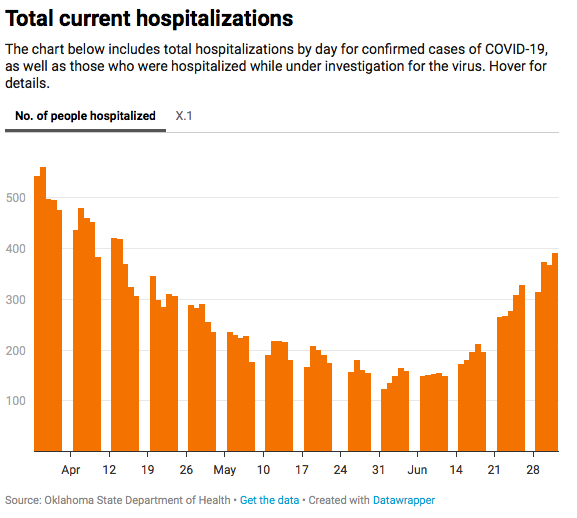 Oklahoma's alarming trend lines do not include rally attendees from other states who may have contracted the virus in Tulsa, returned home, and infected others. Nor do they include the nearly 50 percent of people infected with COVID-19 who never develop symptoms but remain contagious for up to 14 days.
Arizona
Three days after Tulsa, Trump took his COVID party to Arizona, where the number of confirmed infections was also spiking.
June 22: Arizona reports a record day for COVID-19 hospitalizations. Eighty-two percent of inpatient beds and 84 percent of ICU beds are in use for COVID-19 and other patients.
Also on June 22: Before leaving for Phoenix, Trump says he is "not worried at all" about proceeding with his rally in a church auditorium seating 3,000 people.
Also on June 22: Phoenix's mayor issues a statement urging everyone attending the rally, including Trump, to wear a facemask: "While I do not believe an event of this magnitude can be held safely, particularly as Arizona sees rising COVID cases, the President has decided to continue with this rally.…Everyone attending tomorrow's event, particularly any elected official, should set an example to residents by wearing a mask. This includes the President." Trump ignores her.
June 23: Addressing capacity crowd of mostly young people without facemasks, Trump lies to them, saying that COVID-19 is "going away."
Around June 23: Up to 15 Secret Service agents who became infected while preparing for the rally test positive for COVID-19. To avoid infecting entire flights of passengers, they drive themselves back to DC.
June 27: Arizona Gov. Doug Ducey (R) re-closes bars, gyms, movie theaters, and water parks for at least 30 days, and he postpones the start of school until mid-August.
July 1: After a one-day postponement because one of his Secret Service agents had to be replaced due to COVID-19 concerns, Vice President Mike Pence visits Arizona.
July 3: Eight Secret Service agents who accompanied Pence on his Arizona trip test positive for COVID-19 and remain there, quarantined in a Phoenix hotel.
July 4: COVID-19 cases in Arizona continue to increase. Since June 16, COVID-19 hospitalizations have doubled and almost 90 percent of ICU beds are in use.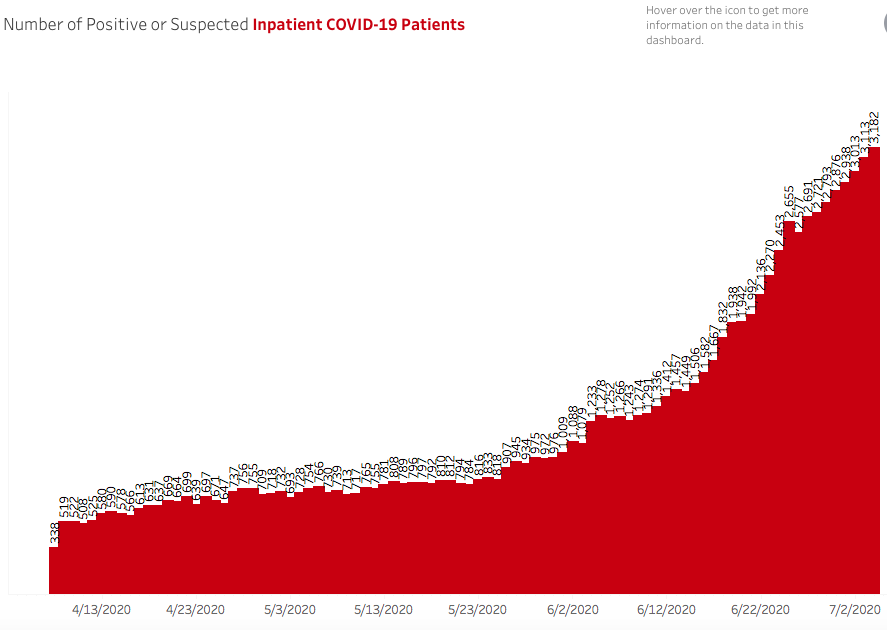 https://www.azdhs.gov/preparedness/epidemiology-disease-control/infectious-disease-epidemiology/covid-19/dashboards/index.php
South Dakota
July 2: While in South Dakota for Trump's upcoming rally, Kimberly Guilfoyle — Donald Trump Jr.'s girlfriend and a top fundraiser for the Trump campaign — speaks at an indoor event in Rapid City along with Gov. Kristi Noem (R-SD). Neither wears a mask or practices social distancing.
Guilfoyle had also spoken at Trump's rallies in Tulsa and Phoenix.
July 3: Guilfoyle tests positive for COVID-19.
Also on July 3: Trump leads an Independence Day fireworks celebration at Mt. Rushmore. Folding chairs for thousands of attendees are zip-tied together. Few in the crowd wear facemasks.
In his speech tonight Pres Trump will denounce what he will call "a merciless campaign to wipe out our history, defame our heroes, erase our values, and indoctrinate our children." He will say "we must protect and preserve our history, our heritage and our heroes." pic.twitter.com/evGSWbRxKk

— Mark Knoller (@markknoller) July 4, 2020
Washington, DC
July 4: Trump defies the advice of medical experts and the mayor of Washington, DC, to host a "Salute to America" on the National Mall — complete with fireworks, music, military demonstrations, and a flyover. Trump presides from the White House lawn, where a large VIP group is not required to wear masks or maintain social distancing. Although the crowd on the Mall itself is strikingly thinner than in prior years, thousands attend and those standing closest to where Trump speaks are not masked or socially distant: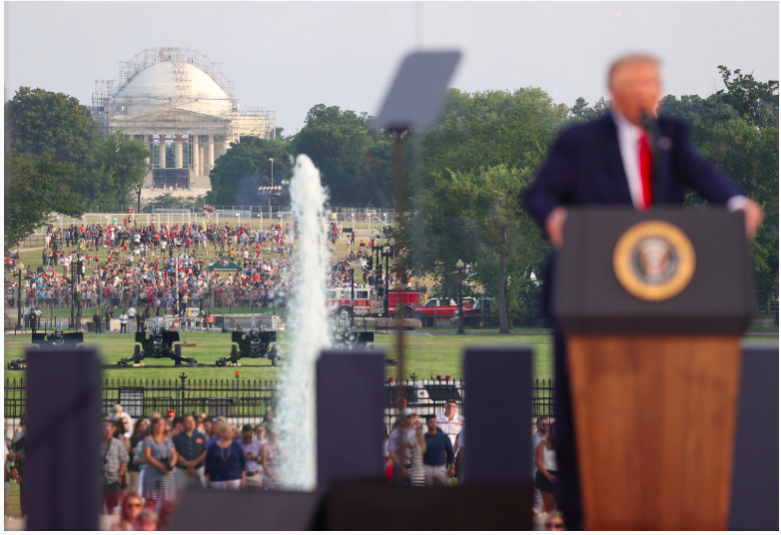 Ready, New Hampshire?
On July 11, Trump is planning to hold another COVID party in Portsmouth at an airport hangar with any overflow crowd outside. At the moment, New Hampshire is one of the few states reporting a decline in coronavirus cases. As other states have learned the hard way, that can change on a dime.
The campaign's press release said, "We look forward to so many freedom-loving patriots coming to the rally and celebrating America…"
Freedom-loving patriots valuing their health and the well-being of others will stay away. It's not a party if no one shows up.
Read all installments of Steven Harper's Pandemic Timeline.