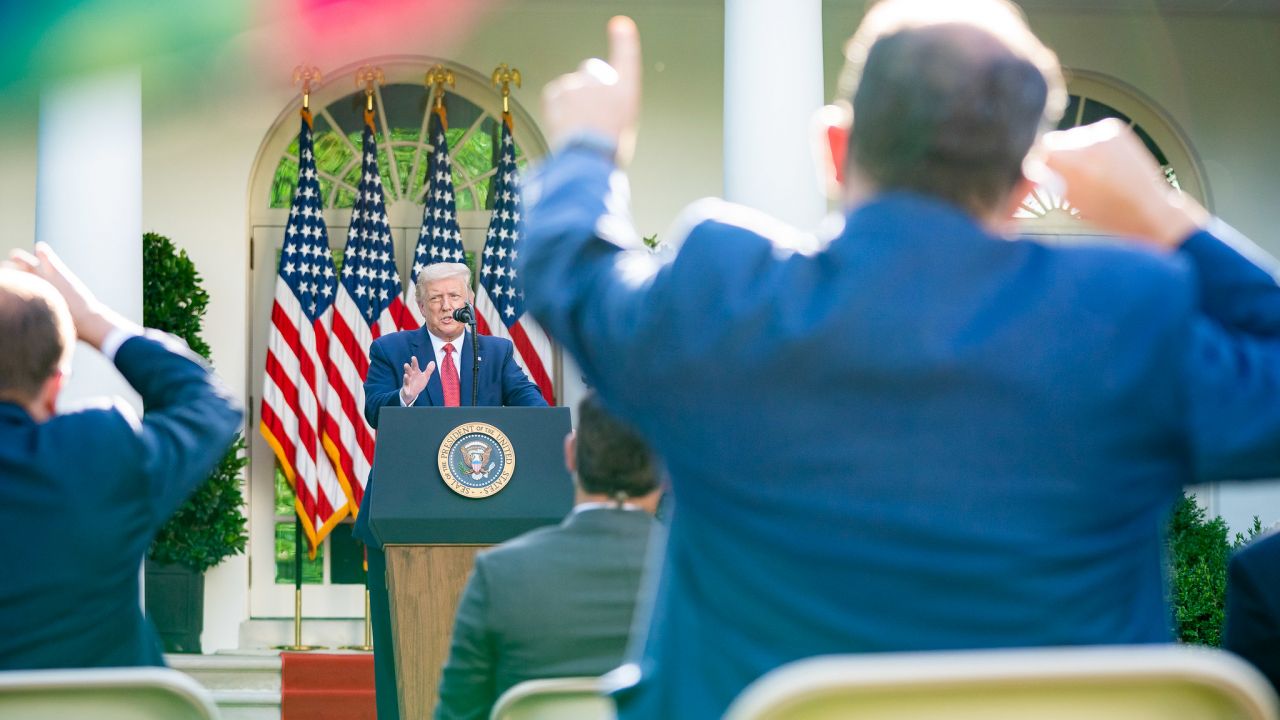 July 14, 2020
This afternoon, Trump held a press conference in the Rose Garden of the White House to announce that he had signed into law the Hong Kong Autonomy Act, clearing the way for sanctions on Chinese officials and entities that undermine Hong Kong's autonomy. As soon as he had made the announcement, he launched into a rambling attack on presumptive Democratic presidential nominee Joe Biden, using the official press conference as he had done the official coronavirus briefings when he held them: as an opportunity for a campaign rally-type speech.
A couple of things jumped out about the speech. First, it is clear that Trump is enormously concerned about being attacked for the trade deal he made with China in January, in the early days of the coronavirus epidemic. Trump's former National Security Advisor John Bolton's account of his time in the administration revealed that in June 2019, Trump begged Chinese President Xi Jinping to help him win reelection by agreeing to buy more US agricultural products. This purchase was central to the January trade deal. But the trade deal, which Trump and his people touted as a game-changer for the economy, hurt America's response to the coronavirus as Trump's cheery support for Xi Jinping and the way in which the Chinese leader was handling the coronavirus helped slow our own response to the crisis.
Now Trump is eager to distance himself from the earlier deal. The constant refrain of his speech was how hard he has been on China in contrast to how easy Biden had been when he was vice president. "Make no mistake," Trump said, "We hold China fully responsible for concealing the virus and unleashing it upon the world. They could've stopped it. They should've stopped it. It would've been very easy to do at the source when it happened. In contrast," he continued, "Joe Biden's entire career has been a gift to the Chinese Communist Party and to the calamity of — of errors that they've made."
He then launched into a rambling tirade against Biden, including an aside claiming wildly that Biden's son Hunter "walked out with 1.5 billion," presumably a reference to a debunked story seeded by Trump's lawyer Rudy Giuliani that China paid Hunter off to curry favor with then-Vice President Biden. Trump's speech was full of debunked talking points like this one—claiming falsely again, for example, that "the military was totally depleted" when he took office. These claims play well at his rallies but sound unhinged in the Rose Garden in daylight. In a speech that went on for 63 minutes, he characterized Biden's positions in such wildly exaggerated terms it seemed a caricature. He suggested, for example, that Biden intends to curb carbon emissions by getting rid of windows in homes and offices.
Trump defended his administration's handling of the coronavirus, claiming it has saved "millions of lives…. It could be 2 to 3 million." ("But if we had listened to Joe Biden," he said, "hundreds of thousands of additional lives would have been lost.")
It was the speech of an embattled man.
It seems clear that pressure is building on him. Coronavirus cases in the US approach 3.5 million and deaths have topped 136,000. Cases of infection are surging across the country. Florida has just set a single day record for deaths and Arizona and Texas are bringing in refrigerated morgue trucks.
Yet Trump continues to insist that schools must open fully and on schedule, and today, in a really unusual public hit on one member of an administration from another, Trump's trade advisor Peter Navarro published an op-ed in USA Today attacking Dr. Anthony Fauci, the director of the National Institute of Allergy and Infectious Diseases, who is one of the administration's key advisors on the pandemic. The highly respected 79-year-old Fauci has served every president since Ronald Reagan and has been instrumental in preventing epidemics in the US since the worst part of the AIDS crisis. He insists that Americans must do more to combat the surging disease, and has warned that premature reopening of businesses and schools will continue to spread the illness. Nonetheless, Navarro—who is not a doctor— urges a faster reopening, and announced in his op-ed that Fauci "has been wrong about everything I have interacted with him on."
Still, Americans are not eager to put their children into harm's way. An Axios-Ipsos poll released today revealed that 71% of Americans—including 53% of Republicans—think it is risky to send their children back to school.
Some administrators are listening. Two of the largest school districts in the country, Los Angeles and San Diego, just announced they will resume coursework on-line in the fall. Together, those districts enroll more than 700,000 students. Their resistance to Trump's edict are paving the way for others.
The administration had tried to pressure colleges and universities to reopen as normal this fall by threatening to deport foreign students if their schools went to online instruction. As universities and 20 states immediately sued, the administration today dropped the plan.
Wow. In MIT/Harvard case, DHS has fully agreed to rescind the July 6 ICE guidance and July 7 FAQ, and rescind all implementing guidance!

So no TRO, because the government backed down completely.

— Aaron Reichlin-Melnick (@ReichlinMelnick) July 14, 2020
Talk radio host Rush Limbaugh offered today that Americans must "adapt" to the coronavirus, taking our cue from the Donner Party, a group of pioneers snowed into the Sierra Nevada Mountain range on their way to California in 1847, who "had to turn to cannibalism to survive." "It's just what was," he said. "They didn't complain about it, because there was nothing they could do. They had to adapt. This is what's missing. There seems to be no concept of adaptation. There seems to be no understanding in the Millennial generation that we can adapt to this, and that we're going to have to."
Interestingly, Limbaugh left out half the story of what happened to the Donner Party. After it was rescued and news of what had happened to the members of the group raced back east, Americans were horrified. Determined to guarantee that no other travelers would ever have to endure such a fate, Congress backed government policies to place army guides on the route to California and Oregon. The government did its best to make sure that those crossing the dangerous mountains would arrive safely at their destination.
We are pleased to be presenting daily posts from Heather Cox Richardson's "Letters From an American" email newsletter. You can sign up to receive it in your inbox here.