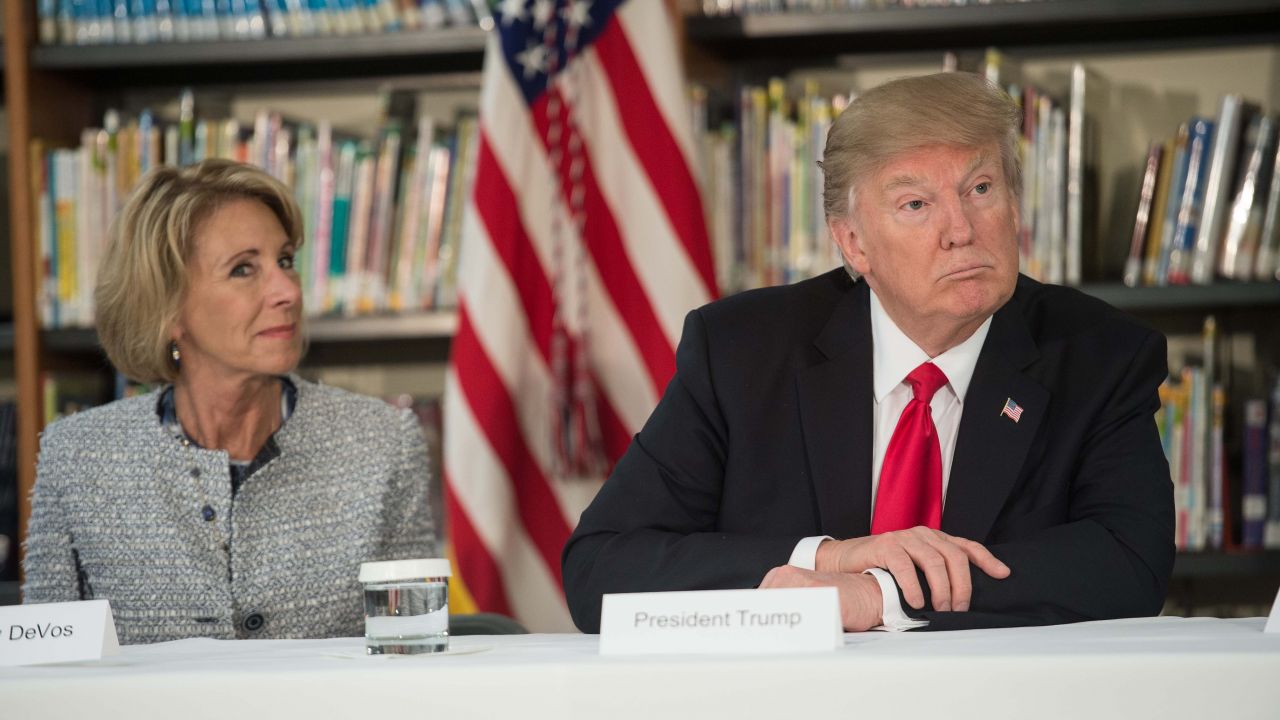 This post originally appeared at Common Dreams.
The Trump administration on Wednesday announced that rules designed to protect students from predatory for-profit schools will be delayed and possibly scrapped entirely.
"The new rules stood to benefit students from failed for-profit colleges already seeking to have their loans forgiven, as well as others who might be eligible to do so," The New York Times reported. "They also established tougher standards intended to check the flow of further federal funds to rogue for-profit operators."
The move was denounced by critics who characterized it as part of a broader effort by the Trump administration to dismantle Obama-era regulations and give excessive leeway to institutions engaged in exploitative practices.
In response to the Department of Education's announcement, Massachusetts Attorney General Maura Healey wrote that by working to delay borrower defense rules, Trump and Education Secretary Betsy DeVos " have betrayed students and families across the US."
"I'm going to sue them," she added.
On Tuesday, Healey and several other state attorneys general filed a motion to intervene in a California lawsuit — filed by an association of for-profit schools — challenging the same regulations the Trump administration is set to inhibit. As The Times noted, the Department of Education had previously cited the lawsuit as a reason to delay the rules.
"While Secretary DeVos and her advisers remain silent, a trade association backed by predatory, for-profit school executives is trying to dismantle one of our most important protections for students and taxpayers," Healey said in a statement. "We need a Department of Education that will vigorously defend protections for vulnerable students, not enable the continued abuse and fraud we have fought against for years."
Last week, Sens. Elizabeth Warren (D-MA), Sherrod Brown (D-OH), Patty Murray (D-WA) and Richard Durbin (D-IL) wrote a letter to Education Secretary DeVos requesting information on whether the administration would enforce the borrower defense rules and expressing their concern that blocking the rules would have harmful effects on students looking to escape loan traps set by for-profit schools.
"Delaying the borrower-defense rule would be a monumental dereliction of the duty you have to protect students and taxpayers, and would increase the risk of repeating the recent history of students left holding the bag while executives at collapsing institutions made away with millions in profits," the senators argued.
Now that the Trump administration seems set on halting the rules, student and consumer advocacy groups are joining lawmakers in pushing back.
Rohit Chopra, a senior fellow at the Consumer Federation of America, observed that the "current rules require schools that cheat their students to pony up funds for refunds. This helps to ensure that lawbreakers pay, not taxpayers."
The Education Department's decision to block the rules, Chopra concluded, "will lead to more students saddled with debt they cannot afford with taxpayers left on the hook."