Three months ago, the nation's economy was in freefall as COVID-19 raged out of control. Donald Trump sought to salvage his re-election prospects by successfully pressuring many governors — especially Republicans in the Sun Belt — to reopen their states without satisfying the CDC's criteria for doing so safely. Today the country is coping with the consequences: more than 135,000 deaths and double the number of new daily COVID-19 cases compared to the worst day of the shutdown:

The pandemic still rages out of control, but for the same self-serving reasons, Trump is now bullying governors, school administrators and the CDC to reopen all schools fully in the fall.
Bullying Science
Medical experts believe that children are less likely to contract COVID-19 and more prone to get milder versions of it. But they also acknowledge that kids under 10 have been the least tested group and that the health risks go far beyond children. Before Trump silenced him, Dr. Anthony Fauci cautioned, "We don't know everything about this virus, and we really had better be very careful, particularly when it comes to children."
It's not just students. Nearly one-third of the nation's public school teachers are over 50. Others necessary to make schools function — administrators, support staff, and aftercare workers — cover a range of ages and COVID-19 vulnerabilities. When the school day ends, all return home to others, some of whom are in high risk categories, especially in multigenerational families.
A safe return to normalcy in everyday life is every American's dream. But no edict can make teachers, staff, parents and children comfortable in a full classroom when their eyes, ears, and leading medical professionals tell them they won't be safe unless schools follow CDC guidelines that Trump is actively undermining.
Bullying Parents, Teachers and Students
July 6: Gov. Ron DeSantis (R-FL) orders all public schools to reopen in August and offer "the full panoply of services" to students and families. DeSantis's premature reopening of Florida made it a COVID-19 epicenter that is crushing the medical system there: 84 percent of Florida's ICU beds are full, 56 Florida hospitals are at ICU capacity and another 35 hospitals show ICU availability of 10 percent or less.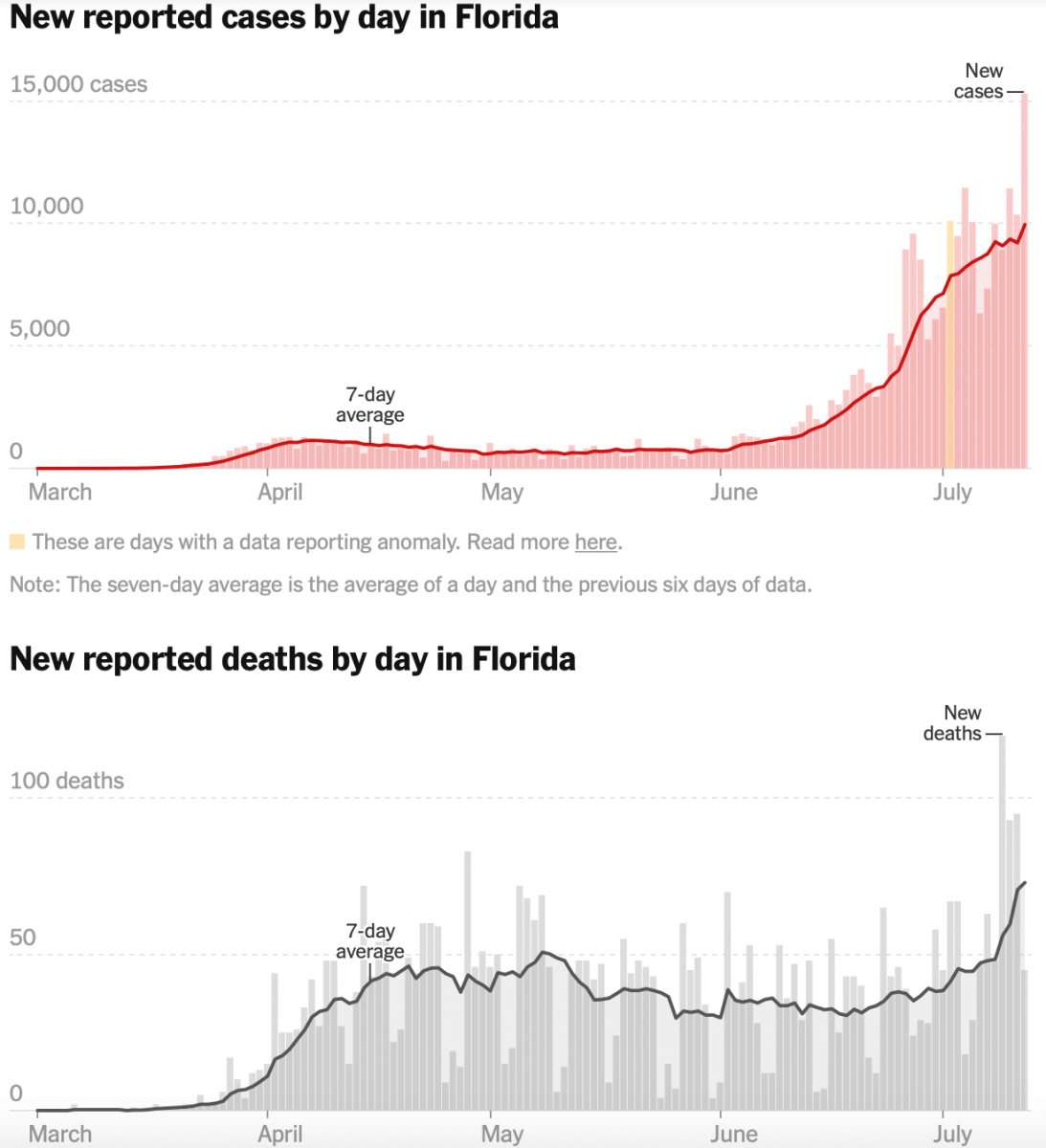 July 7: Surrounded by supporters and members of his administration, including Secretary of Health and Human Services Alex Azar and Secretary of Education Betsy DeVos, Trump  announces that he wants all students returning to classrooms in the fall. He praises DeSantis for "doing a terrific job. He just announced that the schools will be open in the fall, and we hope that most schools are going to be open."
Trump also belittles decision-makers who defer to science and epidemiologists, accusing them of playing politics: "They think it's going to be good for them politically, so they keep the schools closed. No way. So we're very much going to put pressure on governors and everybody else to open the schools, to get them open.…[W]e're going to be putting a lot of pressure on: Open your schools in the fall." 
Azar chimes in, "And we can reopen our schools safely with what we know. And it's really simple practices of common sense. It's social distancing. It's wearing face coverings when you're in a setting that you can't social distance. And it's practicing good, personal hygiene. The tools are there to bring our kids back safely, to protect our teachers and our staff, and it's time to do it now."
DeVos adds, "It's clear our nation's schools must fully reopen and fully operate this school year.…[I]t's not a question of 'if'; it's just a question of 'how.'" In an ironic comment given Trump's chronic pattern of blaming others and his persistent recent fear-mongering, DeVos adds, "This moment demands actions, not excuse making or fear mongering."
July 8: Trump tweets a threat to "cut off funding" to schools that don't open, although he has limited authority to do so.
Bullying the CDC
Everyone agrees that children should return to school as soon as possible. The only issue is how and when to do so in a way that protects public health. For that information, the country relies on the CDC for credible nonpartisan guidance. Trump is undercutting it.
May 19: The CDC issues guidance for ways "schools can help protect students, teachers, administrators, and staff and slow the spread of COVID-19." Steps include personal hygiene, the use of cloth face coverings, staying home when appropriate, staggered scheduling, back-up staffing plans, modified seating layouts to allow social distancing, physical barriers and closing communal spaces.
July 8: The day after Trump's first public push to reopen all schools in the fall, he tweets disapproval of the CDC's earlier guidance: "I disagree with @CDCgov on their very tough & expensive guidelines for opening schools. While they want them open, they are asking schools to do very impractical things. I will be meeting with them!!!" 
Also on July 8: Two hours after Trump's tweet, CDC Director Dr. Robert Redfield says that the agency's guidance was never intended as a rationale to keep schools closed and he would be disappointed if schools used them in that way.
Also on July 8: Asked if he's concerned that Trump's demand to reopen all schools might put the health of students and teachers at risk, Vice President Mike Pence says, "I think that every American, every American knows that we can safely reopen our schools.…[W]e just don't want the guidance to be too tough."
Also on July 8: An internal 69-page CDC document details how schools can reopen safely. Contrary to Trump's agenda, it cautions that "full sized, in-person classes, activities, and events" where "students are not spaced apart, share classroom materials or supplies, and mix between classes and activities" present the "highest risk" of increasing the spread of COVID-19. The document is not released publicly.
July 9: Dr. Redfield says that the CDC will issue "additional reference documents" to aid communities trying to reopen kindergarten through 12th grade. But, he suggests, "it's not a revision of the guidelines."
July 10: According to a Kaiser Family Foundation study, 1.5 million teachers — one in four — have a condition putting them at higher risk of a severe illness from a COVID-19 infection.
July 12: Appearing on CNN, DeVos refuses to say whether schools should follow CDC guidelines in reopening. "The CDC guidelines are just that, meant to be flexible and meant to be applied as appropriate for the situation," she says. "Kids need to be in school. They need to be learning, they need to be moving ahead." Pressed repeatedly on whether schools should implement remote learning if there's a flare-up of COVID-19 cases in their districts, DeVos says: "I think the go-to needs to be kids in school, in person, in the classroom."
Also on July 12: Florida reports more than 15,000 new COVID-19 cases in a single day — more than New York's worst day when it was the epicenter of the pandemic. According to Reuters, if Florida were a country, it would rank fourth in the world, behind the US, Brazil, and India.
Bullying the Virus
Revamping schools, adding staff and acquiring necessary protective gear to comply with CDC guidelines would cost billions of dollars that school districts don't have and that the federal government hasn't provided. Most kindergartners can't wipe their own noses. Across the nation, so-called adults are having fist fights and shouting matches over whether they need to wear masks and practice social distancing in public places. But Trump, Azar and DeVos think that somehow all students will follow the CDC's face mask and social distancing rules on school buses, at recess and in classrooms.
July 8: Trump tweets, "In Germany, Denmark, Norway, Sweden and many other countries, SCHOOLS ARE OPEN WITH NO PROBLEMS…"
Germany, Denmark, and Norway were able to reopen schools because their leaders had implemented nationwide testing, isolation and tracing programs that effectively contained the virus — something Trump still has not done. This graph depicts the absurdity of Trump's comparison: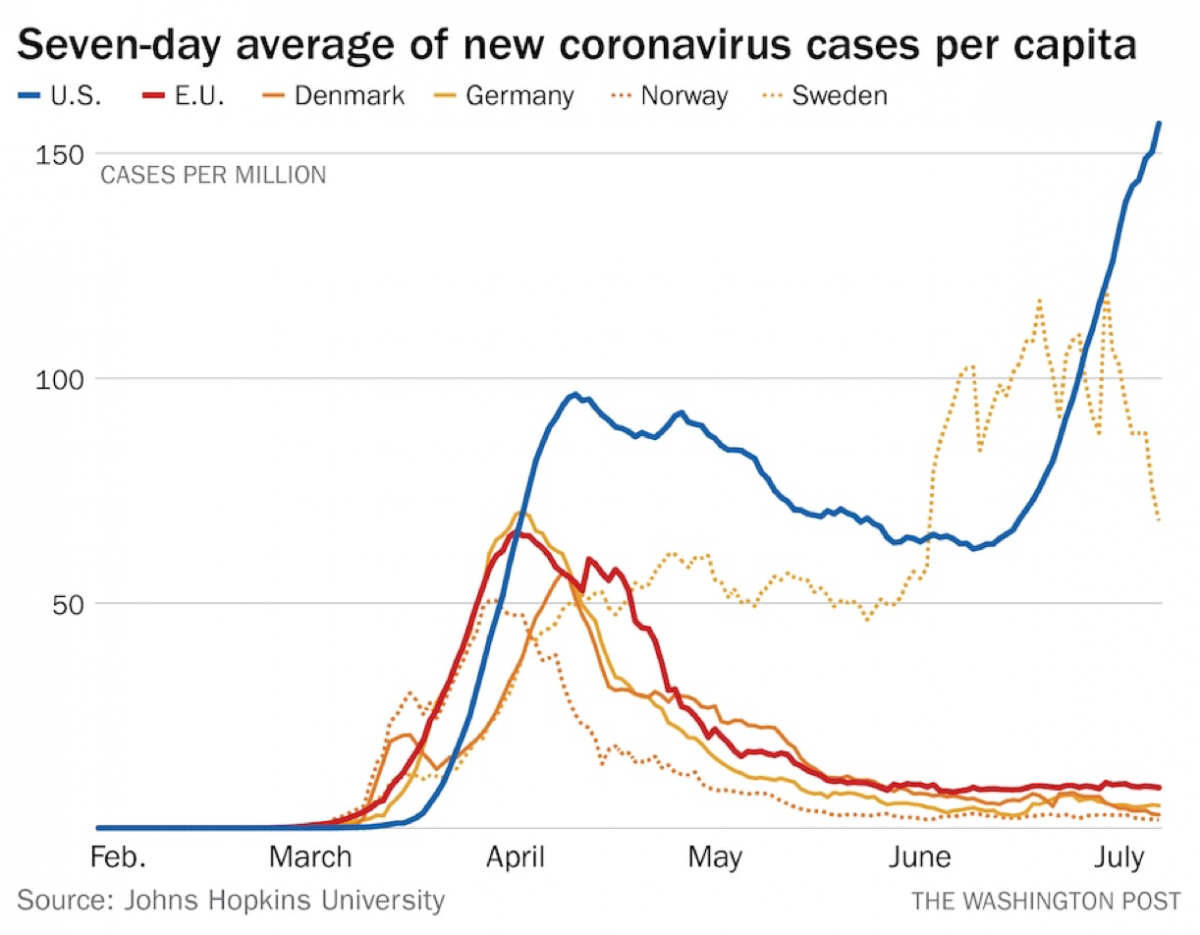 The other country on Trump's list, Sweden, never closed its schools or businesses. It's now a poster child for what happens when a national government doesn't even try to stop the virus. As of this writing, it has a whopping 544 deaths per million people and is still struggling to contain COVID-19. Compare that to deaths per million in Germany (109), Denmark (105) and Norway (48). 
The US has 414 COVID-19 deaths per million of population. If current projections come true, total US COVID-19 deaths will exceed 200,000 by November 1. That would be more than 600 deaths per million — surpassing Sweden and making America's mortality rate the third worst in the world.
Also on July 8: German Chancellor Angela Merkel tells the European Parliament, "We have seen lies and disinformation, and that is no way to fight the pandemic…The limits of populism and the denial of basic truths are being laid bare."
Laying basic truths bare, persuading people to accept them and then generating action consistent with those truths present three different challenges. If more Republican leaders had stood up to Trump when he used lies and disinformation to battle science and promote his re-election campaign early in the pandemic, thousands of Americans would still be alive today.
There's a medical term for that GOP condition: spineless.
Read all installments of Steven Harper's Pandemic Timeline.