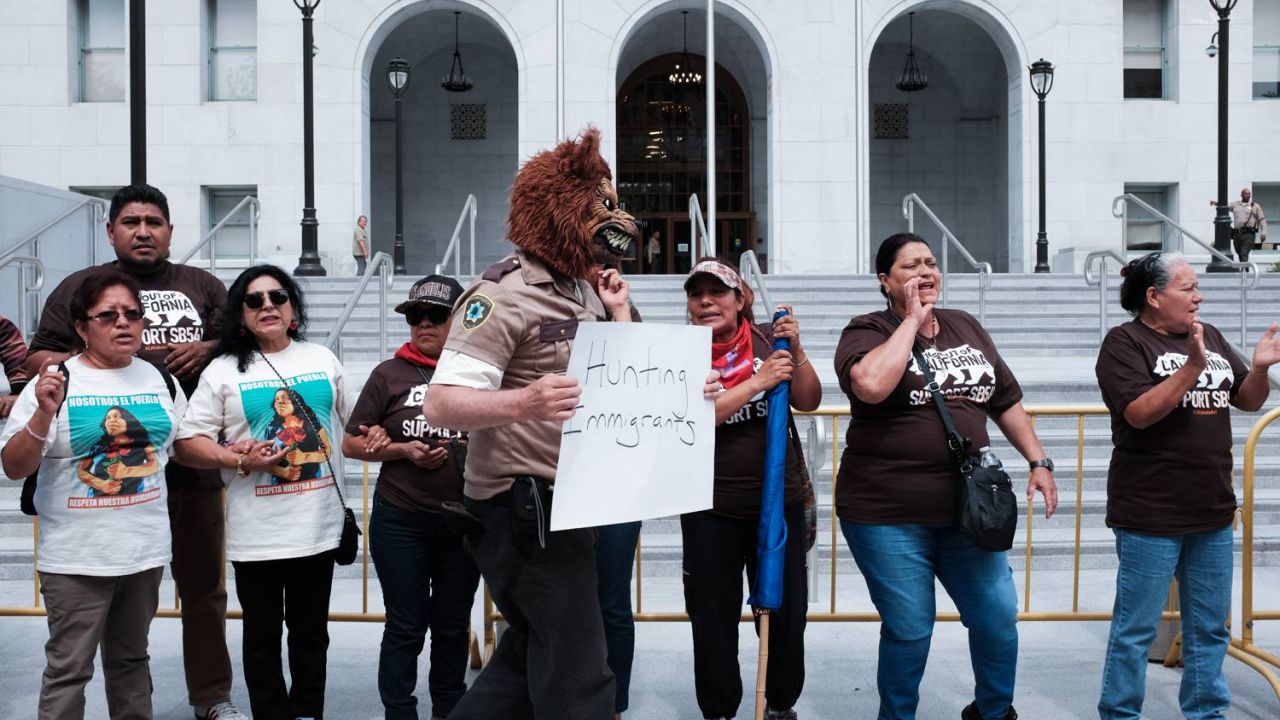 This Q&A is part of Sarah Jaffe's series Interviews for Resistance, in which she speaks with organizers, troublemakers and thinkers who are doing the hard work of fighting back against America's corporate and political powers.
The "Caravan Against Fear" is rolling through a number of Western states to bring attention to President Trump's proposed policies on immigration and the upcoming anti-Trump Labor March on May 1. In this interview that has been lightly edited, Sarah Jaffe speaks with Alejandra Valles, the Secretary Treasurer for SEIU United Services Workers West, which organized the tour, along with Global Exchange and the National Day Laborer Organizing Network.
---
Sarah Jaffe: Tell us about how the Caravan Against Fear has been going so far? Where are you currently?
Alejandra Valles: We are in Tucson, Arizona. Right now, I'm sitting at a refugee-owned Ethiopian restaurant, a small mom-and-pop that had heard about the caravan and wanted to host a lunch for us. It is beautiful to get a warm meal on the road since we have been eating fast food. It means so much to us that folks are learning about the caravan's mission and want to help in whatever way they can.
We have already gone through all of California from Sacramento to Bakersfield, Modesto, Presto, San Diego, Los Angeles, Santa Ana and then we came to Arizona. We have been to Phoenix and the Tohono O'odham Reservation to talk about their opposition to the wall on their sacred land. We are in Tucson, Arizona protesting against Rep. Martha McSally (R-RI) who has been very anti-immigrant in her stance in Congress.
SJ: How many more days do you have?
AV: We are going all the way until May 1. We have been sleeping in churches and on floors — anywhere that will open up their offices or pews to us. We are on our way to Nogales, where we will be meeting with a bunch of community folks there who will tell us about what it's like in Nogales for migrant workers and the work that they are doing on immigration justice. We are going to Las Cruces tomorrow where we will be speaking on behalf of a sanctuary ordinance that some people in the City of Las Cruces are thinking of trying to pass. The caravan is lifting up resistance efforts across the country and asking: How can we demand more from our local communities and our city councils to fight back against the Trump administration's rhetoric of anti-immigrant policies and fear tactics?
SJ: I want to talk a little bit about your union — and why it is important for it to be involved in this fight?
AV: I think it is incredibly important for all in the labor movement to be involved. We have seen a fight around issues of class, wages and benefits for workers, but the issues of racial justice, immigration justice and environmental justice are really at the forefront of our members' lives every single day. Before they are a worker, they are an immigrant. Before they are a worker, they are a black human being. Before they are a worker, they are a mom and dad and friend and a sister and a daughter.
The caravan itself is incredibly diverse. It is built of African-Americans who have been criminalized for decades and know what it is like to be discriminated against and killed and disproportionately impacted because of the color of their skin. It is also built of immigrant women who also know what it is like to be marginalized and to be discriminated against and exploited because of their immigration status and because they don't speak English.
We really felt strongly that we need to resist at every level. Our employers need to resist when ICE [Immigration and Customs Enforcement] comes knocking at their doors. Our community needs to resist and rise up the way we have in other moments, like in 2006. Our Congress members and Assembly members have to resist, as well. We said, "We have to break through this paralysis of fear that Trump is using to try to keep us from doing anything and to try to keep us scared of our own shadows and living in this underground economy." But, at the same time, we have also seen him targeting people of color, starting to publish lists, and really criminalizing us in a lot of different ways. That is why we are out here. We are telling everyone in the community, "There is nothing wrong with us. We are hardworking people. We help make this economy work and we are going to stand up for our rights" and hoping that the rest of the country and the world will follow.
SJ: Your union has a history of being involved in immigrant workers rights and the 2006 Day Without An Immigrant.
AV: Our union led the fight on Justice for Janitors back in the 1980s; in 1990 after the Los Angeles Police Department beat immigrant janitors in Century City; and in 2000, when we organized a massive strike of 8,500 unionized janitors. Our union has been fighting for immigration justice for decades — to bring workers out of the shadows and into unions and the labor movement, embrace them and organize them to lift standards for all workers.
We have everything to lose in this moment. Our economic and our human worth needs to be respected.
— Alejandra Valles
At the same time, we have been very involved in organizing black security officers. Many of them wear a uniform but live in poverty. We are fighting for black worker justice and highlighting why it is that black workers are disproportionately impacted and discriminated against at work and also in their own communities.
This caravan is really bringing our community together. We are going to drive to LA and participate in a national general strike on May 1 as workers, as rank-and-file members who are saying, "We have everything to lose in this moment. Our economic and our human worth needs to be respected."
We need to stand up and make sure that the whole world, as well as Donald Trump and his administration, understand that we help make this economy work. We pick the fruits and vegetables that end up at our tables. We clean in the richest buildings, many that Donald Trump himself owns. We guard and protect our communities. We put on our uniforms as security officers to make sure some of his buildings and other buildings across the country are protected. We are first responders any time a natural disaster or emergency happens. We contribute to this economy every single day. Trump needs to respect our human worth, and also needs to respect our economic worth. That is why we are going to shut it down on May 1.
SJ: Since the election of Trump the strike has really kicked up another notch in the public consciousness. There was a lot of debate around the Women's Strike about whether it was privileged to take a day off from work. I would love to hear you talk about why it is important for the least privileged workers in our economy to actually use the strike as a weapon.
AV: Personally, I believe the Women's March was an incredible inspiration. It was the largest mobilization that we have had in the history of our country. I think that is the way we make change in this country. It's when people who are not necessarily impacted the same way as marginalized communities, when those people are standing up, they are taking risks, and they are helping to lead that charge. Martin Luther King said that loud and clear: When you have white allies, you have interfaith allies that join the front lines, that is when you start to really make a difference. I think that all the groups that are trying to do their best to resist in this moment are putting their little grain in the sand and inspiring us.
All of us need to take a look at our own privilege and figure out how we, as human beings, help lift up somebody who is not as privileged, who is marginalized and who is more vulnerable and disproportionately impacted either by their status or because they are women of color or people of color. I believe that this is the moment.
I am hopeful and inspired by what I have seen so far. I really do believe that all of what we have been doing is preparing us for May 1. But it doesn't end on May 1 — we are going to have to continue. I feel very hopeful about it and think that we need to constantly remind ourselves that we have a responsibility to carry others on our shoulders and create spaces for them to lead and build solidarity. That's the way that we will defeat the racism and the hate of the Trump administration.
We are calling on people to stay home from work on May 1, to shut down your business, to walk out of school, and to come out with your family members and march with us.
— Alejandra Valles
SJ: Tell us what May Day is going to look like in Los Angeles.
AV: May Day is going to be incredible in Los Angeles. We are expecting thousands of people. There are estimates right now that there will be more people than there were at the Women's March. It's on a Monday, so we have been talking to businesses. You can see our posters up all over the Fashion District, all over Highland Park that say "Somos El Pueblo. Shut It Down May 1st" "Somos El Pueblo. Huelga May 1." They are beautiful posters created by Ernesto Yerena, who also did the "We the Resilient" posters for the Women's March.
I really do believe that it is going to be lively. I think it is going to be full of arts and culture and this amazing heartbeat of sacrifice, of people of color, of white allies, of women and people from "A Day Without An Immigrant." We are also working with some musicians who want to perform. We are calling on people to stay home from work on May 1, to shut down your business, to walk out of school, and to come out with your family members and march with us. There is going to be lots of local marches — it's not just Los Angeles — it's San Francisco, Oakland, San Diego, Santa Ana and Orange County.
We really do believe that this is going to send a strong message to the administration, but also to the country as a whole, that we are in a moment of crisis. We are experiencing a humanitarian crisis right now and it is Pandora's Box if we let this happen because it means that all of our constitutional rights are at stake.
But that is, unfortunately, what we are seeing with the Trump administration. Everything from the ban and the raids to the deportations and the persecution by law enforcement in our immigrant communities. Law enforcement pull over immigrants and use pressure tactics to get them to sign away their temporary protected status or the only status that they have and then the immigrants immediately give up their right to due process. On top of that there is also the assaults that we are seeing on women at detention centers.
SJ: Anything else people should know about Caravan Against Fear, May Day or the work that you are doing?
AV: Just that we really urge people to get involved and to get more information at CaravanAgainstFear.org. You can follow the caravan and everything we are doing on Facebook and Twitter. It's about saying "no" to the persecution of immigrants, saying "no" to deportations and the separation of families, saying "no" to the wall, saying "yes" to resistance efforts, and shutting it down and going out on May 1. You can find all of that on CaravanAgainstFear.org. We will take it to the streets in the same way that we did in 2006. Si se Puede!

Interviews for Resistance is a project of Sarah Jaffe, with assistance from Laura Feuillebois and support from the Nation Institute. It is also available as a podcast on iTunes. Not to be reprinted without permission.