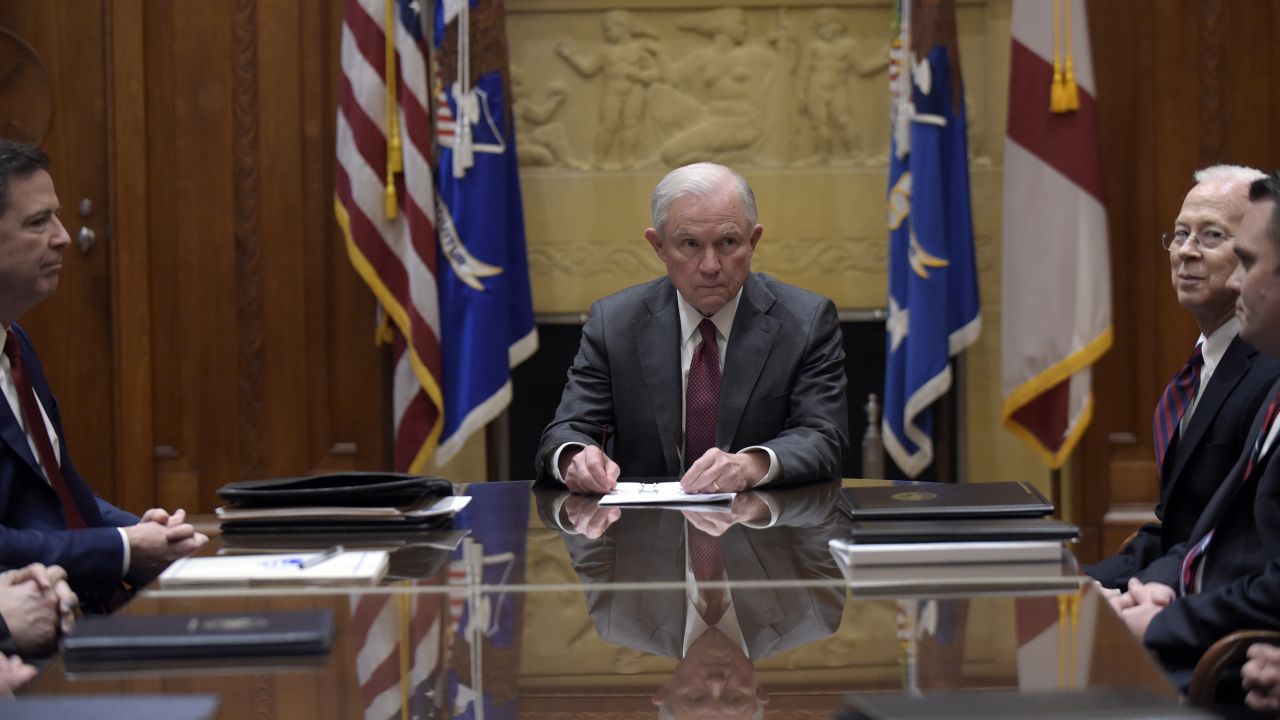 This post originally appeared at The Nation.
Attorney General Jeff Sessions' four-sentence memo rescinding Justice Department guidance to reduce the use of private prisons sent stock soaring for the two companies that dominate the industry, Geo Group and CoreCivic (formerly Corrections Corporation of America). That's not necessarily because the memo will lead to a ramp-up in Geo- or CoreCivic-run federal prisons. As of December 2015, about 12 percent of all inmates in federal prisons were housed in private facilities, representing only 22,660 inmates. That certainly won't decline under Sessions, but he didn't promise to increase it substantially. "I direct the [Bureau of Prisons] to return to its previous approach," Sessions wrote. Anyway, DoJ renewed a pair of contracts with CoreCivic despite the now-scuttled order, so it's unclear if the status quo ever stopped.
As of December 2015, about 12 percent of all inmates in federal prisons were housed in private facilities, representing only 22,660 inmates.
But the high-profile memo does matter because of the precedent. States and federal agencies that might have otherwise been wary of the negative perception of private prisons, and their often horrific outcomes, can now rest easy.
The Department of Homeland Security in particular is preparing for a boom in detention facilities to house undocumented immigrants awaiting deportation. This could increase the population under detention by as much as four-fold. Incidentally, if immigrants face criminal prosecution for entering the country illegally, that could increase those held in Bureau of Prisons facilities overseen by the Justice Department. This could be what Sessions meant in his memo about needing flexibility "to meet the future needs of the federal correctional system."
A majority of current immigration- and family-detention facilities, 62 percent, are privately run. Though DHS never joined DoJ in recommending a phase-out, it did issue a report revealing the inferior quality of private detention centers relative to federally run ones, and an advisory council supported phasing out the private facilities. But now that the attorney general has given his stamp of approval, the industry has been rehabilitated.
A majority of current immigration- and family-detention facilities, 62 percent, are privately run.
The seeds of Sessions' evangelism for private prisons, and the future of the industry, were sown back in October, when two of his former Senate aides, David Stewart and Ryan Robichaux, became lobbyists for Geo Group. Stewart and Robichaux, who represent the lobbying firm Bradley Arant Boult Cummings, were specifically hired to deal with federal government contracting. The bet that Trump might win the presidency and tap Sessions, one of his earliest supporters, for a powerful position in the government paid off.
It's not like Sessions wouldn't have boosted private prisons had his staffers not gone to work for the industry. Trump touted private prisons as far back as last March. And Sessions' history with the industry goes back 20 years. As attorney general of Alabama, he approved the use of private prisons in the state in an advisory opinion in 1996. As senator he helped secure a federal contact for undocumented immigrant detention in a facility in Perry County, Alabama, though it was eventually canceled. In a 2010 hearing, Sessions said, "I do think there is a role for private prisons in the American system," backing a nominee to run the US Marshals Service who had ties to the industry.
So the presence of Stewart and Robichaux didn't tip Sessions into the private-prison industry's corner. However, it may give Geo Group a leg up in its perennial battle with CoreCivic for market share. Geo had already positioned itself with Trump during the campaign. A subsidiary of Geo gave $225,000 to a pro-Trump Super PAC, in violation of restrictions on federal contractors from political donations. Needless to say, the Federal Election Commission has done nothing with this information. And the return on investment could prove to be enormous.
"With respect to detention services," said Geo Group CEO George Zoley on a recent investor call, "we would continue to be the largest provider of detention services to the three largest government agencies, that is ICE, the Bureau of Prisons and the US Marshals Service." The prominence of Sessions aides' lobbying for Geo should be enough to push them past CoreCivic, expanding their share of federal contracts even more. This is simple pay-to-play favoritism.
CoreCivic has tried to catch up, with a $250,000 donation to Trump's inauguration fund. But the inside connections at Geo Group between Sessions and his ex-staffers could be too much for CoreCivic to handle. And federally run facilities, shown in the Justice Department studies that prompted the original guidance to operate at a far higher quality, have little shot of competing with Geo. If history is any guide, that will mean more incidents of violence, more security deficiencies, more contraband smuggling, more use of harrowing solitary confinement and simply more danger.
It's not just that the Sessions memo is good news for the private-prison industry in general. It's good for Geo Group in particular. That's precisely the type of crony capitalism and picking of winners and losers that conservatives have paid lip service to wanting to prevent for years. In Trump's America, success is just one well-chosen lobbyist away.