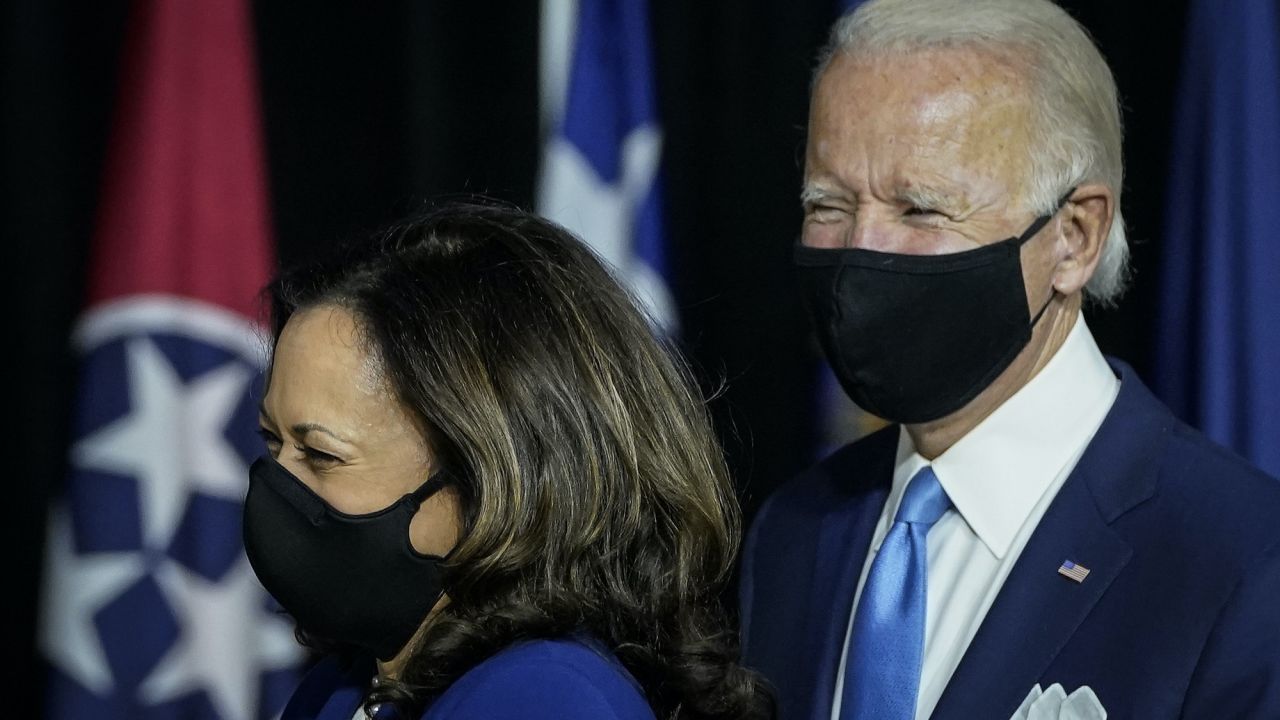 August 12, 2020
Today, as the Democratic Joe Biden-Kamala Harris team began to campaign together to win the 2020 election, the contours of the upcoming political contest became clearer.
The Trump campaign seemed curiously befuddled by Biden's choice of Harris as a running mate, although surely its leaders must have known she was among the top choices. Their messaging about her was confused. On the one hand, they claimed that she was soft on crime and a radical who wanted to defund the police; on the other hand, they said she was too tough as a prosecutor. The Trump campaign settled on the idea that Harris is a dangerous radical, a label that will be hard to pin on former prosecutor Harris, especially as Democratic progressives complain that she is too moderate.
For his part, Trump echoed the idea that Harris is radical, but almost immediately fell back into racist and sexist attacks. He immediately called her "nasty," a word denigrating Black women that has its roots all the way back in colonial Virginia, as well as "meanest" and "most horrible."
Addressing his recent overturning of the Obama-era rule intending to end racial segregation in housing, he tweeted: "The 'suburban housewife' will be voting for me. They want safety & are thrilled that I ended the long running program where low income housing would invade their neighborhood. Biden would reinstall it, in a bigger form, with Corey [sic] Booker in charge!" New Jersey Senator Cory Booker is Black; his inclusion in this tweet seems designed to suggest that white suburban women should fear that Black Americans are going to "invade their neighborhood."
In fact, Trump's stoking of racial tensions has cost him support from white women that he badly needs. White women without a college education backed him by 27 points in 2016; right now that support has dropped to 6 points. Suburban women deserted him in 2018, and it seems unlikely his racist and sexist attacks on Harris will help bring those voters back. He appears to be intending to run for reelection by firing up his base to make sure they vote, while suppressing the votes of those who want to replace him.
To shore up loyal voters, today Trump announced a series of Department of Transportation grants to various Republican states where support for him is wavering, claiming credit for the monies: "I'm sending… funding…!" he tweeted. The grants repeat those of May, which Trump advertised similarly, although, in fact, Democratic states also got some of today's $463,848,929 in grants to upgrade bus service.
There are signs that Trump's Republican Party has become too extreme even for some of its supporters. Today Ron Johnson (R-WI) who is investigating Ukraine's role in the 2016 attack on the U.S. elections from his position as chair of the Senate Homeland Security and Governmental Affairs, said that fellow Republicans were blocking his subpoenas. Johnson wants to hear from former FBI Director James Comey, former CIA Director John Brennan and other of the major figures who were part of the investigation into President Donald Trump's 2016 campaign and its contacts with Russia. Although the committee gave Johnson unilateral power to issue subpoenas in the spring, Johnson told radio host Hugh Hewitt that he was not moving forward with those subpoenas because "We had a number of my committee members that were highly concerned about how this looks politically."
Trump today took to Twitter to offer congratulations to Marjorie Taylor Greene, the QAnon-supporting Georgia Republican who just won a primary in Georgia and whose deep red district will likely send her to Congress. Trump called her a "future Republican Star." "Marjorie is strong on everything and never gives up – a real WINNER!" Yet, West Point's Combating Terrorism Center last month published a report calling the QAnon conspiracy theory "a public security threat with the potential… to become a… domestic terror threat."
Representative Adam Kinzinger, an Illinois Republican, tweeted "Qanon is a fabrication. This 'insider' has predicted so much incorrectly (but people don't remember PAST predictions) so now has switched to vague generalities. Could be Russian propaganda or a basement dweller. Regardless, no place in Congress for these conspiracies." Rather than supporting the idea that the Republican Party does not endorse either Greene's vocal racism or her adherence to the idea that Trump is secretly undermining a pedophilia ring that has taken over the nation's government, Trump's deputy communications director Matt Wolking attacked Kinzinger on Twitter.
This afternoon, an ICE raid in Bend, Oregon also met significant protest. ICE officers intercepted two men who have been long term residents of the community, and held them on a bus. Protesters surrounded the bus and demanded their release. Bend Mayor Sally Russell tweeted that she had been told that the men had warrants out for their arrest, and that it was not a sweep for undocumented immigrants, but without evidence of those warrants, the protesters refused to let the bus leave. They demanded the men be given water and food after their many hours on the bus. Local officials called on federal officials, including acting Department of Homeland Security Chief Chad Wolf to "work it out" with them. The ICE officials in Bend appeared to be trying not to antagonize the protesters, affirming their right "to voice their opinion peacefully without interference."
Meanwhile, the news about coronavirus continues to be bad. Today, nearly 1,500 people died of Covid-19, the highest reported number of Covid-19 deaths in a single day since May. For 17 days, we have lost an average of more than 1000 people a day. A report in the New York Times by Denise Lu noted that there were more than 200,000 more deaths in the U.S. since March than in a normal year, suggesting that the death count from the pandemic is currently about 60,000 lower than is accurate.
Still, Trump continues his push to reopen the economy, athletic events, and public schools, although many of the schools that have opened immediately saw coronavirus infections and have had to shut again. Despite the devastating effects of the coronavirus on Native American populations, the federal government intends to reopen the 53 Bureau of Indian Education schools over which it has direct control on September 16. While students can choose to attend online, teachers must teach in person. With Native Americans suffering the highest hospitalization rate of any ethnic group in the U.S., one educator said that the Bureau of Indian Education is "playing God."
In their first campaign appearance together, Biden and Harris seemed quite deliberately to offer a contrast to the Trump administration, not simply in their careful language about an inclusive America, but also in their demeanor.
They walked onto a stage in a high school gym in Delaware wearing masks. Then, standing in front of American flags and state flags, Biden spoke about his admiration for the women he had interviewed for the vice president slot and his defense of a multicultural America. Noting that today is the third anniversary of the events at Charlottesville, Virginia, when white supremacists rioted, attacking Black Americans and killing Heather Heyer, he said it was Charlottesville that convinced him he must help reclaim equality of opportunity as the American dream.
Then he turned the microphone over to Harris. Even the simple act of letting someone else take center stage was a striking contrast to Trump's recent press conferences. Harris blamed Trump's poor handling of the pandemic for the economic crash, and said that the country is also "experiencing a moral reckoning with racism and systemic injustice." "America is crying out for leadership," she said. "Yet we have a president who cares more about himself than the people who elected him."
Enthusiasm for the Biden-Harris ticket brought 150,000 new donors to the Democratic campaign. In the 24 hours after Biden announced that he was tapping Harris as his vice president candidate, the campaign raised an eye-popping 26 million dollars.
We are pleased to be presenting daily posts from Heather Cox Richardson's "Letters From an American" email newsletter. You can sign up to receive it in your inbox here.