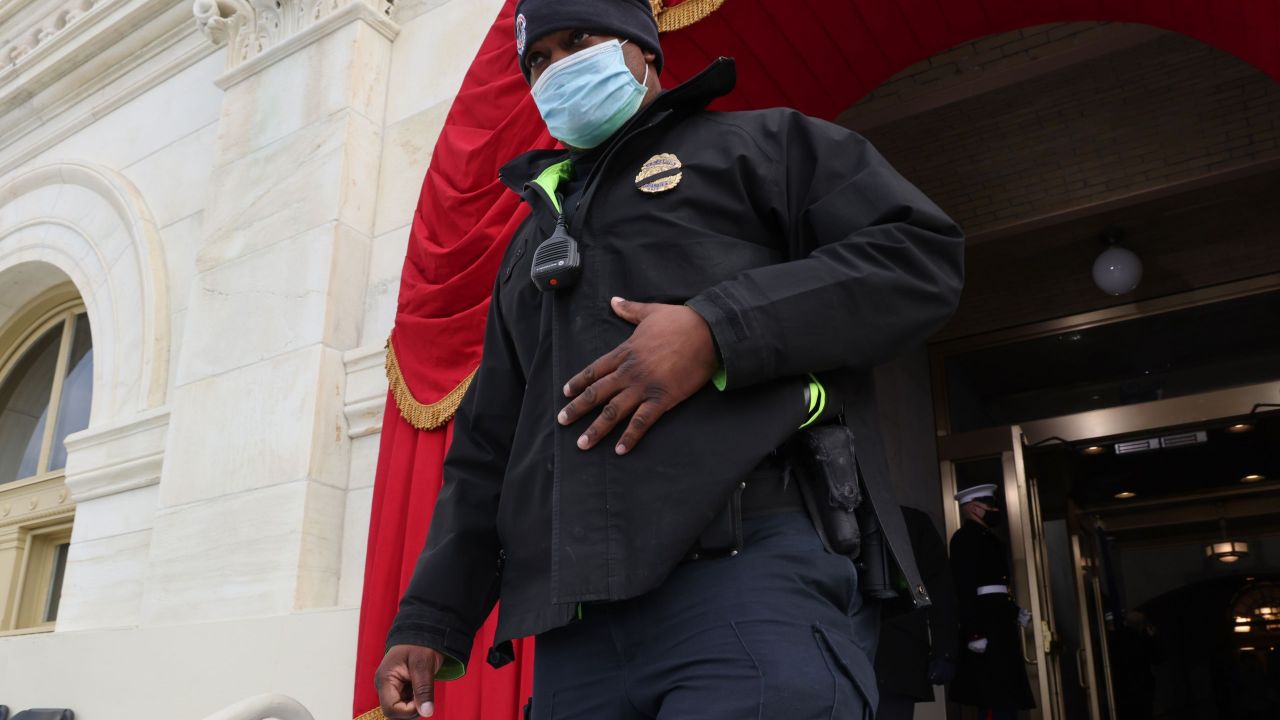 March 17, 2021
Today the House of Representatives approved awarding Congressional Gold Medals to members of the Capitol Police for their defense of the Capitol on January 6. Four hundred and thirteen members voted in favor, and 12 Republicans opposed the measure. A number of party members took offense at the language in the bill, which referred to the Capitol as "the temple of our American Democracy" and called the rioters "a mob of insurrectionists."
Part of their objection comes from their eagerness to downplay what happened on January 6 and to redefine it as a much less important event than it was.
Last week, six top Republican senators expressed dismay to the acting chief of the Capitol Police, Yogananda Pittman, over the continued presence of nearly 2300 National Guardsmen and a fence topped with razor wire around the Capitol. While security experts are concerned about ongoing threats, especially around the time of Biden's expected address to a joint session of Congress, Senate Minority Leader Mitch McConnell (R-KY) says the security is "overdone." In a letter to Pittman, the five say it is "entirely unclear" why the fencing remains. They say it "sends a terrible message to American citizens, as well as to our allies and adversaries."
The fencing reminds Americans of what happened on January 6 and the Republicans' complicity in that attack, refusing, as they did, to hold Trump accountable for inciting the insurrection. Senator Ron Johnson (R-WI) did not sign the letter to Pittman, but he told a right-wing talk radio host that he was not frightened by the rioters on January 6 because they were "people that love this country, that truly respect law enforcement, would never do anything to break the law." In contrast, though, he said he would have been worried if the rioters were "Black Lives Matter and Antifa protesters."
The events of January 6 left several people, including three police officers, dead, and more than 100 law enforcement officers wounded. Hundreds of people have been charged with crimes.
Johnson's version of the insurrection was pretty transparently an attempt to rewrite the history of January 6 to whitewash the role of Trump supporters and instead blame those opposed to Trump. His version of the events of the day is false. The insurrection was the logical result of months of lies from Republican lawmakers and media figures insisting that Democrats had stolen the 2020 election and that it was imperative for Trump's supporters to stop the count of the electoral votes to—somehow—give Trump a second term. (That part of the plan has always seemed fuzzy to me, and yet the fact that the three people in line for the presidency after Trump were all in danger on January 6 seems to me an odd coincidence.)
Yesterday, we learned that much of what Republican politicians and pundits were saying in the months leading up to the election echoed the efforts of Russian intelligence agents to influence the 2020 election. Russia is eager to weaken the U.S. in order to force us to bargain as it seeks to expand its influence in the world.
Director of National Intelligence Avril Haines declassified the assessment of the intelligence community of foreign threats to the 2020 U.S. federal elections that had been provided to the previous administration and congressional leadership on January 7. The community assessed that Russian President Vladimir Putin authorized influence operations, which "a range of Russian government organizations conducted," "aimed at denigrating President Biden's candidacy and the Democratic Party, supporting former President Trump, undermining public confidence in the electoral process, and exacerbating sociopolitical divisions in the U.S."
Russia did not meddle in election infrastructure, the report said, but instead focused on pushing narratives— including lies about Biden and his son, Hunter, suggesting they had engaged in corrupt behavior in Ukraine– "to US media organizations, US officials, and prominent US individuals, including some close to former President Trump and his administration."
The intelligence report assesses that, throughout the election season, Russia's online trolls "sought to amplify mistrust in the electoral process by denigrating mail-in ballots, highlighting alleged irregularies, and accusing the Democratic Party of voter fraud." They also "promoted conspiratorial narratives about the COVID-19 pandemic, made allegations of social media censorship, and highlighted US divisions surrounding protests about racial justice."
"Even after the election," the report says, "Russian online influence actors continued to promote narratives questioning the election results and disparaging President Biden and the Democratic Party. These efforts parallel plans Moscow had in place in 2016 to discredit a potential incoming Clinton administration, but which it scrapped after former President Trump's victory." (Remember that Trump associate Roger Stone insisted that Trump was being cheated way back in the 2016 primaries, and then launched a "Stop the Steal" website before the 2016 general election, calling for donations by saying, "If this election is close, THEY WILL STEAL IT.")
No one, though, accessed election infrastructure… just as Christopher Krebs, the former director of the Cybersecurity and Infrastructure Security Agency in the Department of Homeland Security, said (and got fired for saying it, by Trump, over Twitter).
This report was released to the former administration and leading members of Congress on January 7, the day after the Capitol riot.
And yet, many of them have yet to agree that the election was legitimate and that President Biden won it. Instead, they are suggesting that the insurrection that this rhetoric produced was not really a profound attack on our democracy.
It was.
We are pleased to be presenting daily posts from Heather Cox Richardson's "Letters From an American" email newsletter. You can sign up to receive it in your inbox here.