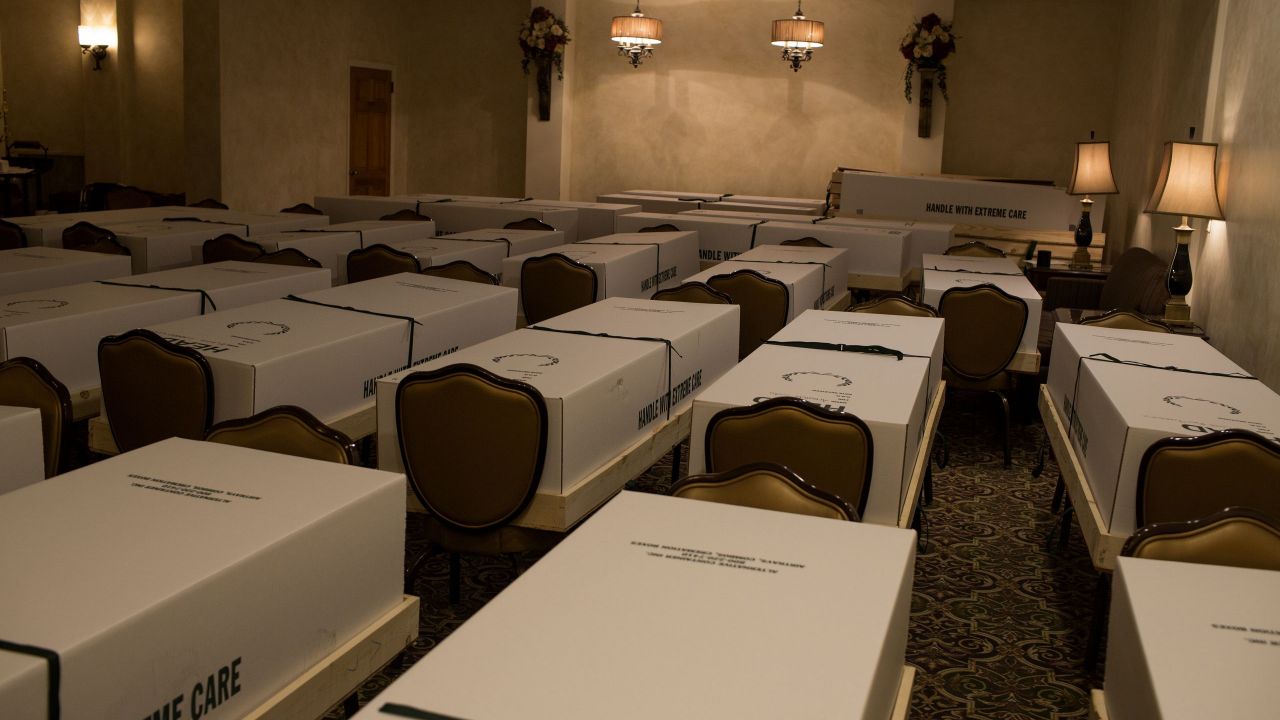 November 18, 2020
Today marks a grim milestone. The official count of Americans dead of coronavirus has topped a quarter of a million. 250,000 Americans, lost. Governors, including some Republicans previously opposed to ordering measures to stop the spread of the virus, are now issuing mandatory mask requirements. New York City has reached a 3% positivity rate; schools there have closed, and will go entirely on-line tomorrow. That rate is far below that of the regions worst hit these days.
"Right now, we are in an absolutely dangerous situation that we have to take with the utmost seriousness," Assistant Secretary of Health at the Department of Health and Human Services Dr. Brett Giroir told MSNBC. "This is not crying wolf. This is the worst rate of rise in cases that we've seen in the pandemic in the United States and right now there's no sign of flattening." The latest report from the White House coronavirus task force says we are facing "aggressive, unrelenting, expanding broad community spread across the country, reaching most counties, without evidence of improvement but rather, further deterioration."
And yet, Secretary of Health and Human Services, Alex Azar, maintains that no one in his department can coordinate with the incoming Joe Biden and Kamala Harris administration until the General Services Administration determines that Biden won the election. An administration official told CNN that department leadership had warned staffers not to communicate with Biden team, and to report any contact to the deputy surgeon general. Rick Bright, who was fired from the Trump administration for warnings about the dangers of coronavirus and who is now on the Biden team, told CNN: "We haven't been able to sit down with the Trump administration at all, to be able to understand what plans are already in place, where the gaps are, where help is needed, and how we can make sure there's a smooth hand-off after January 20, where the bulk of these vaccines will be administered after that date."
Talking to frontline coronavirus workers, Biden said that Trump's refusal to admit defeat is "the only slow down right now that we have." He pointed out that the lack of information means, for example, that his team has no idea how much personal protective equipment is stockpiled. "Soon we're going to be behind by weeks and months being able to put together the whole initiative relating to the biggest promise we have with two drug companies coming along and finding 95% effectiveness, efficiency in the vaccines, which is enormous promise," he said. In a letter to the president, the American Hospital Association, the American Medical Association, and the American Nurses Association begged the administration to "work closely with the Biden transition team to share all critical information related to COVID-19."
Despite orders not to coordinate with the incoming Biden administration, a few Trump officials are quietly reaching out, according to CNN. As one put it: "Nothing that would get us in trouble…. Just an offer to be of help. They know what we mean, and what we can— and can-t— do or say." So far, nothing has come of these tentative offers.
Trump appears to be doing all he can to cripple Biden's administration before it begins. Officials have told CNN that Trump is withdrawing troops worldwide in order to box Biden in before he takes office. A senior official told CNN that the goal is "to set so many fires that it will be hard for the Biden administration to put them all out."
Shortly after the election, Trump purged civilian leaders at the Defense Department, replacing a number of them with people close to Devin Nunes (R-CA), who was apparently involved in conversations with Russians in 2016 that got picked up by intelligence officers, and General Michael Flynn, Trump's former National Security Adviser, convicted of lying to the FBI about his contacts with then Russian Ambassador Sergey Kislyak shortly after Trump's election in 2016.
Acting Defense Secretary Chris Miller announced today that the civilian leaders from Special Operations Command will report directly to him, rather than through the normal chain of command. Special Operations includes about 70,000 troops that undertake unconventional military operations like raids, reconnaissance, search and rescue, and psychological operations. This was a change permitted by a 2017 law, and puts Special Operations at the same level as the other military departments. Lawmakers from both sides of the aisle say this elevation of Special Operations is overdue.
But the timing of this move raises questions, since the officials now overseeing Special Operations are the ones installed since Trump's purge, none of whom has been approved by the Senate. The acting assistant secretary of defense for special operations—the one who will now report directly to newly-installed acting Defense Secretary Miller– is Ezra Cohen-Watnick, originally elevated to a prominent position by Flynn. Cohen-Watnick is an obscure figure who was not removed from his job at the National Security Council when Flynn resigned, apparently because he was personally protected by Jared Kushner. This was unusual: he was very young and inexperienced. He is fiercely loyal to Trump.
Like the other new hires at the Defense Department, Cohen-Watnick is known to be eager to hit at Iran, with whom simmering conflict continues. A week ago, inspectors reported that Iran has many times the uranium stockpile it would have been permitted under the Iran deal Trump pulled the U.S. out of, and that it would take less than a year for Iran to develop a nuclear weapon (something its leaders deny they have any interest in doing). The following day, Trump asked his top aides if he could launch a military strike against Iran's biggest nuclear facility. They talked him out of it, noting that such a strike could lead to a larger war.
Today, Trump imposed sweeping new sanctions on Iran. Henry Rome, an Iran analyst with Eurasia Group, consultants who analyze political risk, told Reuters: "The administration is clearly, and I think transparently, trying to raise the political cost for Biden to re-engage with Iran and lift the nuclear deal sanctions."
Trump's erratic behavior is starting to alarm even Republican lawmakers, who have kept silent as Trump has done pretty much whatever he wished for the past four years. His firing yesterday of Christopher Krebs, the nation's top cybersecurity official, led some Republicans to speak out against the president. "I'm sure I'm not the only one that would like some return to a little bit more of a—I don't even know what's normal anymore," said Senator John Cornyn (R-TX).
A bipartisan group of senators is trying to block the administration's sale of $23 billion worth of weapons to the United Arab Emirates, including F-35 fighter planes, the most technologically advanced planes in the world. It is unlikely they will be able to do so because it would take a two-thirds majority in both houses to override Trump's veto of any measure they produce, but they have at least highlighted that Trump has violated normal procedures to make a sale that will dramatically change the balance of power in the Middle East.
Biden and Harris will meet with the bipartisan executive committee of the National Governors Association tomorrow to talk about addressing the coronavirus.
We are pleased to be presenting daily posts from Heather Cox Richardson's "Letters From an American" email newsletter. You can sign up to receive it in your inbox here.