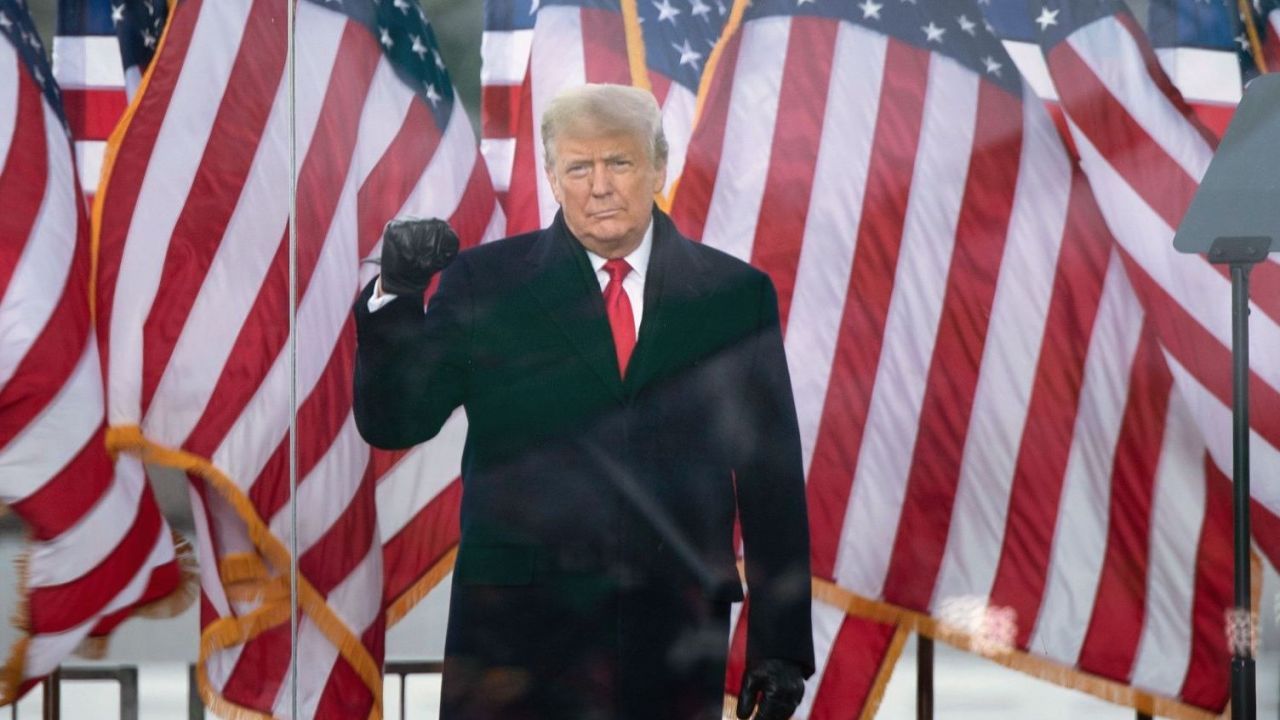 January 7, 2021
The tide has turned against Trump and his congressional supporters, and they are scrambling.
Yesterday's insurrection at the Capitol has brought widespread condemnation. Today all four of the living presidents — Jimmy Carter, George W. Bush, Bill Clinton, and Barack Obama— called out Trump and his party for inciting the rioters. Bill Clinton summed it up: "The assault was fueled by more than four years of poison politics spreading deliberate misinformation, sowing distrust in our system, and pitting Americans against one another…. The match was lit by Donald Trump and his most ardent enablers, including many in Congress, to overturn the results of an election he lost. The election was free, the count was fair, the result was final. We must complete the peaceful transfer of power our Constitution mandates."
Last night, Trump lost his social media platforms as Twitter suspended him for 12 hours and Facebook and Instagram suspended his account indefinitely, leaving him isolated and unable to reach out to his supporters.
Calls mounted today for his removal from office. Republicans as well as Democrats joined the chorus. Conservative columnist Peggy Noonan at the Wall Street Journal called for Trump's impeachment or removal from office by the 25th Amendment, whichever is faster. "Get rid of him. Now." Maryland Governor Larry Hogan, widely perceived to be in the running for the 2024 Republican presidential nomination, agreed that "there's no question that America would be better off if the president would resign or be removed from office." Representative Adam Kinzinger (R-IL) was the first Republican member of Congress to call for Trump's removal.
House Speaker Nancy Pelosi (D-CA) and Senate Minority Leader Chuck Schumer (D-NY) called Vice President Mike Pence to urge him to begin the process of removing the president through the 25th Amendment, but after keeping them on hold for 25 minutes, Pence's staffers told them he would not take their call. Secretary of State Mike Pompeo and Secretary of the Treasury Steven Mnuchin were apparently more willing to discuss the possibility, but have so far decided against it because it would take too long, it is unclear whether acting secretaries could vote, and forcing him from office could stoke ill-will from his supporters. Still, pressure from members of both parties continues to mount as the president falls into what one aide called "a dark place."
If Pence will not support removing the president through the 25th Amendment, Pelosi says, the House will move to impeach him. Congressional Democrats circulated articles of impeachment today, and Schumer told reporters: "I don't care if you're Democrat, Republican liberal, conservative, from the Northeast, South or West… if what happened yesterday doesn't convince you that the president should be out of office now, then something is very wrong with your beliefs about democracy."
Members of the administration are resigning. This morning, Mick Mulvaney, who was a key player in the Ukraine scandal from his post at the Office of Management and Budget and who is now Special Envoy to Northern Ireland, resigned, telling CNBC's "Squawk Box": "I can't stay here. Not after yesterday." Transportation Secretary Elaine Chao, the wife of Senate Majority Leader Mitch McConnell (R-KY), also resigned, saying she is "deeply troubled" by yesterday's events. Education Secretary Betsy DeVos added her resignation to the mix, writing to Trump: "There is no mistaking the impact your rhetoric had on the situation, and it is the inflection point for me."
It has been the honor of a lifetime to serve the U.S. Department of Transportation. pic.twitter.com/rFxPsBoh6t

— Sec. Elaine Chao (@SecElaineChao) January 7, 2021
The resignation of the Cabinet officials means that they will not have to weigh in on removing Trump under the 25th Amendment.
Last night, after Congress counted the electoral votes that put Democrats Joe Biden and Kamala Harris over the top to become the nation's next president and vice-president, the White House issued a statement guaranteeing an "orderly" transfer of power. Today, as calls mounted for Trump's removal from office, the White House called for the resignations of 4000 political appointees, a traditional step in the transfer of power to a new administration but one which Trump had refused to announce until today.
As calls for his removal still continued, he faced video cameras tonight, giving a speech that revealed his realization that he's on the ropes. He tried to rise above the partisan crises of the past months and to pretend that he had, all along, simply been defending democracy. He condemned yesterday's violence but did not concede the election to President-Elect Biden although he acknowledged that Biden would take power. He also did not tell his supporters it was over. "To all of my wonderful supporters, I know you are disappointed," he said, "but I also want you to know that our incredible journey is only just beginning."
Trump is not alone as he scrambles to cover over his complicity in yesterday's crisis. Senator Josh Hawley (R-MO), whose willingness to join the House members who were going to challenge the counting of the votes, and who thus was a key figure in making their false accusations seem legitimate, watched his star plummet today. His key mentor, former Senator John Danforth (R-MO), said supporting Hawley was the "worst mistake of my life." One of Hawley's major donors called him "an anti-democracy populist" who provoked the riots, and called for his censure.
Major Hawley donor calls for his censure by Senate | The Kansas City Star https://t.co/qOm4tunK8I

— Jake Tapper (@jaketapper) January 8, 2021
When Simon & Schuster canceled Hawley's new book contract, the senator fought back, insisting that he was a victim of "cancel culture," with "the Left looking to cancel everyone they don't approve of." He insisted this was a "direct assault on the First Amendment," and that all he had been doing with his challenges to counting the electoral votes from certain states was "representing my constituents, leading a debate on the Senate floor on voter integrity." It was a desperate statement that he must have known to be false. The First Amendment protects us from censorship from the government: a private publishing company is under no obligation to publish anything. And the courts have rejected the idea that preventing Congress from counting the certified votes from citizens of other states is a legitimate way to represent his constituents.
My statement on the woke mob at @simonschuster pic.twitter.com/pDxtZvz5J0

— Josh Hawley (@HawleyMO) January 7, 2021
The editorial board of the St. Louis Dispatch from Hawley's home state wasn't having it. "Americans have had enough of Trumpism and the two-faced, lying, populist politicians who embraced it," the board wrote. "Hawley's presidential aspirations have been flushed down the toilet because of his role in instigating Wednesday's assault on democracy. He should do Missourians and the rest of the country a big favor and resign now…. Trumpism must die before it morphs into Hitlerism."
Some of those arrested yesterday took to the media to express regret for their behavior. Bradley Rukstales, CEO of a marking consulting firm near Chicago expressed his "extremely poor judgment" when he "followed hundreds of others through an open set of doors to the Capitol building to see what was taking place inside." He condemned the violence and offered "my sincere apologies for my indiscretion."
Criticism also mounted today over the actions of the Capitol Police yesterday. The Capitol Police have exclusive jurisdiction over the Capitol Building, and rejected help from National Guard troops and from the FBI before they were overwhelmed yesterday as the mob attacked. They were late calling for help when they finally did, leaving the building underprotected. They arrested only 14 people and let hundreds simply walk out of the building as the crisis wound down, leaving Metropolitan police to arrest 70 people primarily for violating the city's curfew. Law enforcement officers are now trying to chase down the people who breached the Capitol by examining the videos and selfies they posted to social media.
For all that, the Capitol Police were hampered by limits the Pentagon placed on the Washington, D.C., National Guard, essentially limiting them to traffic control. The chief of the Capitol Police made an urgent call for help early Wednesday afternoon only to be refused as an official from the Secretary of the Army worried about the optics of having soldiers inside the Capitol building.
In short, the overlapping jurisdictions and chains of command meant a haphazard response to yesterday's threat. Tonight, a Capitol Police officer died from the injuries he sustained yesterday.
BREAKING: A Capitol Hill police officer has died from injuries sustained during the pro-Trump insurrection at the Capitol. pic.twitter.com/7PdH9Q0Goi

— Brian Tyler Cohen (@briantylercohen) January 8, 2021
The weak response of the Capitol Police to the insurrectionists yesterday highlighted the difference in police responses to Black Lives Matter protesters last summer, when officers under the control of the Executive Branch used tear gas and flash bangs to clear peaceful protesters from Lafayette Square so Trump could walk across it for a photo op, and to the right-wing rioters who invaded the Capitol. Although they were different law enforcement branches, and although then-Attorney General William Barr, who ordered the summer's attack, is now gone, no one could miss that Black protesters could never in a million years have broken in the windows of the Capitol, invade, and wander around taking selfies before leaving without arrest.
Today, spokespeople for the Capitol Police noted that their main job is to protect lawmakers—which they did—not the building, and that no one could have predicted that the president would egg on the rioters. Nonetheless, the chief of the Capitol Police resigned today, along with the sergeants-at-arms of the House and Senate.
The disparity in treatment of yesterday's rioters and Black Lives Matter protesters reflects the reality that authorities treat protesters differently according to their perceived political identification. FiveThirtyEight's Maggie Koerth interviewed Roudabeh Kishi, whose research team tracked police violence in the U.S. from May 1 to November 28, 2020, and Koerth writes that authorities were "more than twice as likely to attempt to break up and disperse a left-wing protest than a right-wing one." When they did intervene, they used force 51% of the time for the left and only 34% of the time for the right.
Arizona State University Professor of Criminology and Criminal Justice Ed Maguire told Koerth: "I think protesters on the right, because they view the police as in their corner, they feel a sense of tacit permission."
We are pleased to be presenting daily posts from Heather Cox Richardson's "Letters From an American" email newsletter. You can sign up to receive it in your inbox here.