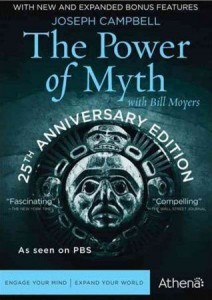 Twenty-five years ago, renowned scholar Joseph Campbell sat down with veteran journalist Bill Moyers for a series of interviews that became one of the most enduring and popular programs ever aired on PBS.
In dialogues that span millennia of history and far-flung geography, the two men discuss myths as metaphors for human experience and the path to transcendence, touching on topics including world religion, heroic figures, and pop culture. This series demonstrates that, despite superficial differences between cultures, all stories are humanity's story.
Filmed at George Lucas's Skywalker Ranch and New York's American Museum of Natural History, this series redefined "good television" through smart conversation that connects to us all.
The anniversary edition features new introductions from Bill Moyers for each episode, extended conversations with Campbell from Bill Moyers Journal, selections from Moyers' interview with Star Wars creator George Lucas, a 12-page viewer's guide, profiles of Campbell's influences, and episode photo galleries.
Watch video excerpts of Bill's conversation with both Joseph Campbell and George Lucas.
See all features related to Joseph Campbell and the Power of Myth.
Visit the Joseph Campbell Foundation website.
Downloadable and streaming versions of The Power of Myth are available at PowerofMyth.net.
Read a biography of Joseph Campbell.