This interactive feature was produced by EarthJustice and is reprinted here with their permission. It is the third chapter of a four-part series they are doing on clean power in the United States. Part one is a video entitled "A Human Right on a Warming Planet." Part two explains what a clean power plan is and how it will work. You can view parts one and two at the EarthJustice website.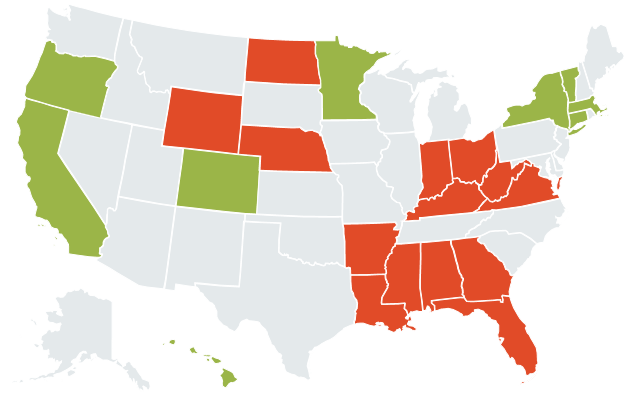 Spotlighting Green: Some key states that stand out for embracing renewable energy and adopting innovative programs, demonstrating that a cleaner energy future is within reach.
Too Close to Call: Many have adopted renewable mandates or voluntary programs on par or even stronger than the EPA's goals, but still have a ways to go to make real progress.
Lagging Behind: These states remain deeply dependent on the dirtiest fuels and have made little effort to pursue clean energy options. There is much residents can still do to demand clean energy and reverse this course.
The Clean Power Plan sets different goals for each state to reduce its carbon emissions by 2030. As one pathway to meet those goals, the EPA suggests a renewable energy target for each state. However, many of the states are already on track to meet or even exceed those renewable aims. See how your state stacks up on the road to a cleaner energy future. And take action to strengthen the Clean Power Plan by demanding more ambitious renewable energy growth.
Filter States By:
Spotlighting Green
Too Close To Call
Lagging Behind
Solar/Wind Sources
Earthjustice at Work
State Goal Stronger Than EPA Aim
State Goal Weaker
Than EPA Aim
Attacks on Clean Energy
2012 Electricity Sources
Of Each State
How's your state doing?