The post first appeared at BuzzFlash at TruthOut.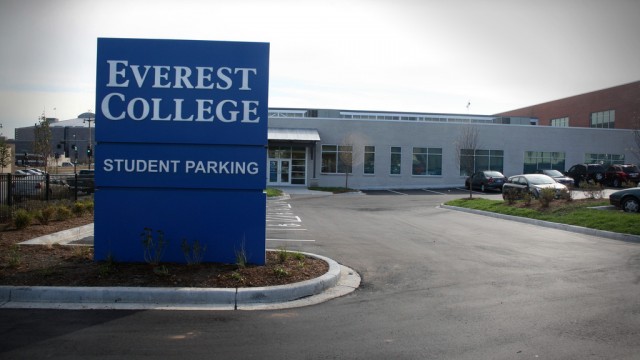 The for-profit Corinthian college corporation went bankrupt, leaving students billions of dollars in debt. Everest College was one of the Corinthian brands. (
Jeramey Jannene
/
Flickr cc 2.0
)
If you doubt that for-profit education is generally a scourge on students seeking knowledge and skills at the college level, just look at the example of what was one of the largest exploiters of higher education: Corinthian Colleges. The Corinthian corporation recently collapsed under the weight of bankruptcy.
According to a November 9 Chicago Tribune article, the demise of Corinthian left a massive number of former students with large college debts to pay off:
Closed by regulators for deceptive practices and dissolved through bankruptcy, for-profit Corinthian Colleges left tens of thousands of former students with dubious degrees and billions of dollars in debt.

A national movement to provide those students with debt relief is underway….

For students left holding the bag, that relief can't come too soon.

"I was ripped off," said Dawn Thompson, a divorced Springfield mother of two who is seeking forgiveness of $150,000 in federal student loans. Most of her debt was amassed through the online paralegal studies program offered by for-profit Everest University, a Corinthian brand.
The damage, however, goes far beyond those students who now owe money for degrees that are tarnished in the job marketplace. For example, many students who were still in their pre-degree studies when Corinthian went belly up accumulated large debts and now have neither a degree nor credits that are transferable to most colleges (given the now questionable quality of a Corinthian "education").
Meanwhile Corinthian was ordered by a federal judge to reimburse students for the personal loans that many took out to attend Corinthian, but that won't happen according to The Tribune:
Last month, a U.S. District Court judge in Chicago ordered the now-defunct Corinthian to pay $531 million to former students after ruling that the for-profit college corporation "engaged in deceptive practices" by misleading students about their career prospects.

The amount includes reimbursement for private student loans to attend Corinthian's colleges, which operated under the names Everest, WyoTech and Heald. Corinthian is unable to pay the restitution after its assets were dissolved in a bankruptcy liquidation, which was approved in August.

The Education Department is exploring ways to forgive federal loans taken out by the former students, a much larger amount that could total $3.5 billion, officials said.
Yes, that is perhaps $3.5 billion dollars that was loaned to students by the federal government to attend a questionable for-profit college business. Senator Richard Durbin (D-IL) supports the forgiveness of the US loans to Corinthian students. Durbin, nonetheless warned, "If we continue to feed this beast, shame on us, and we should be held accountable by taxpayers for those who are going to make excuses for this industry."
The beast that Durbin refers to is the ongoing accrediting of for-profit colleges with shady records. The accreditation of colleges is required by the Department of Education in order for federal loans to be issued to students who attend those colleges.
On November 3, Anne Waldman of ProPublica exposed how some accrediting bodies are lax in certifying colleges:
For-profit universities have had another rough year, with big players facing federal scrutiny for everything from predatory loans to outright fraud.

Now attention is turning to the schools' accreditors.

Accreditors are supposed to make sure that schools provide students with a quality education. They are not government agencies, but wield enormous power: Schools need accreditors' stamps of approval to maintain access to the government's annual $170 billion in federal student aid.

Losing accreditation would be fatal for most for-profit schools since they rely on federal aid for much of their income. But accreditors rarely crack down, even when students are struggling. One of the areas where students at for-profits face extra burden is debt: While only one-tenth of college students attend for-profit schools, they account for nearly half of all students' defaults.
In the wake of the Corinthian scandal, the Obama administration just announced what Inside Higher Ed calls "modest executive actions aimed at forcing accreditors to focus more on student outcomes — and urges Congress to impose more sweeping changes." In short, not much is being done about how current accreditation practices enable predatory for-profit higher education corporations because the Department of Education does not directly monitor the accrediting bodies.
Senator Durbin bluntly states the corrupt result of a kid-glove approach to for-profit college businesses, which make generous campaign contributions to many politicians: "The federal government is complicit by legitimizing fraudulent for-profit schools through federal loans."
If the federal government pays off the billions of dollars in US loans to the hapless Corinthian students — as it should — it is taxpayers who will foot the bill. Corinthian has already profited from the billions of dollars paid to it before it went bankrupt. Consider it another case of taxpayers subsidizing free-market corporations that engage in deceitful and exploitative practices as they sell substandard products. 
In this case, thousands and thousands of college students seeking careers are left in a perilous financial condition with a questionable "education."