Good morning! On this date in 1955, NORAD — then called CONAD — tracked Santa's journey around the Earth for the first time, establishing a holiday tradition that continues today. 
NYPD has a problem –> Reuters interviewed 25 current and former black police officers in New York, and 24 said they'd been victimized by racial profiling by white cops while out of uniform. Two-thirds didn't report the incident to supervisors for fear of retaliation. All but one of those who did were ignored or punished. ALSO: Experts say that Ismaaiyl Brinsley, the man with a long history of mental health issues and criminal arrests who gunned down two police officers in New York last Saturday, probably took advantage of a loophole to gain access to a weapon. David Edwards reports for Raw Story.
Sorry, sheriff –> The first lawsuit against Obama's executive order on immigration — brought by Maricopa County sheriff Joe Arpaio and presidential birth certificate expert Larry Klayman — was thrown out of a federal court on Tuesday. The judge wrote that the role of the judiciary is "not to engage in policymaking better left to the political branches."
Something stinks –> FAIR's P.U.-ilitzers, which honor the year's worst mainstream reporting, features some doozies.
Working the refs –> Brian Beutler writes at TNR that the Congressional Budget Office's projections of how many people would sign up for Obamacare are turning out to be spot-on, just as Republicans get ready to "break" the nonpartisan watchdog agency.
Science fact? –> NASA has a proposal to send a manned mission to Venus. The astronauts would spend a month researching the planet from the safety of a lighter-than-air dirigible.
Cold War problems –> Below, via CNN's Chris Moody, is a letter that John Kennedy sent a little girl who was having an anxious Christmas during the height of the Cold War…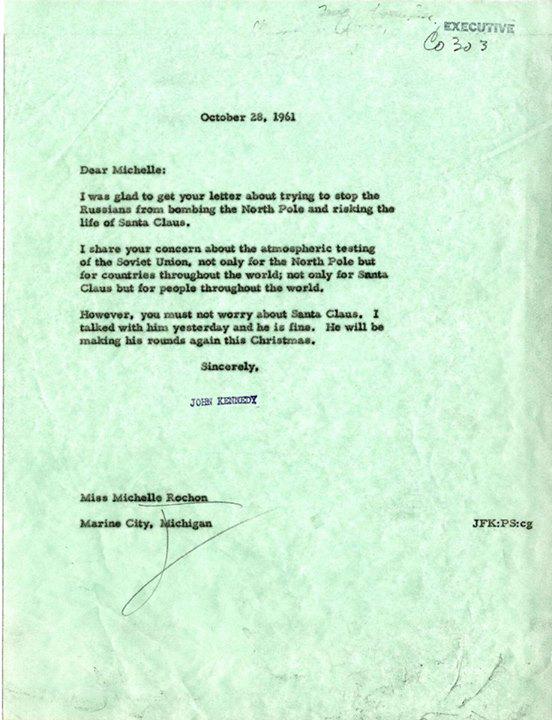 You can get our Morning Reads delivered to your inbox every weekday! Just enter your email address below…


This work is licensed under a Creative Commons Attribution-NoDerivatives 4.0 International License.