Good Morning!
Stat of the day: 23 percent — the share of people of color who highly rate the "honesty and ethical standards" of police, down 22 points from the previous year. According to Gallup, slightly fewer than half of all respondents view police as honest and ethical, the lowest share since 1995.
Someone got the memo that the Cold War is over –> On Wednesday, Obama announced "a new chapter" in America's relationship with Cuba, possibly paving the way for normalization. Both sides released prisoners. The BBC reports that the announcement was the culmination of a year of secret talks — with Pope Francis among those in the mix. AND: HuffPo reports that Sen. Marco Rubio (R-FL) gave a "blistering press conference" in which he vowed that "Obama will get no money for his Cuba policy, no ambassador will be confirmed and the embargo will never be lifted."
More good news –> New York Gov. Andrew Cuomo, usually a trusted friend of corporate interests, announced on Wednesday that fracking will not be allowed in the Empire State. Thomas Kaplan and Jesse McKinley report for the NYT that state officials determined the process "could contaminate the air and water and pose inestimable dangers to public health." AND: BillMoyers.com's Theresa Riley spoke with scientist, activist and former Moyers & Company guest Sandra Steingraber who sees the decision as "an incredible affirmation of science and the principles of public health."
Dreams dashed –> Vermont is abandoning its push to become the first state to set up a single-payer health care system. Activists had hoped it might become a test bed for universal care financed though taxes, leading other states to follow, but for the foreseeable future that dream is dead. Sarah Wheaton reports for Politico.
Hackers win –> The top five movie theater chains have all dropped the upcoming Sony Pictures release, The Interview — a comedy depicting an attempted assassination of North Korean leader Kim Jong-Un — after hackers posted a vague threat of imminent terror attacks. Gregg Kilday has the details at The Hollywood Reporter. AND: At Slate, David Auerbach reports that the group that claimed credit for hacking Sony's computers are "cyberterrorists," not "hackers." AND: Kim Zetter writes at Wired that mainstream media reports to the contrary,  the evidence that North Korea is behind the attack on Sony is "flimsy."
Highway safety –> Reuters: "Supreme Court blocks Arizona from denying driver's licenses to immigrants."
It's really dry –> NASA warns that California needs 11 trillion gallons of water to end its epic, three-year-old drought. Anastasia Pantsios has the details at EcoWatch.
Patriarchy much? –> A Missouri Republican wants to make it illegal for women to get an abortion without a notarized permission slip from the father. The only exception would be if she could prove that the pregnancy resulted from "legitimate rape." Molly Redden has the story for MoJo.
Language matters –> A European court ruled that Hamas must be removed from the EU's list of terrorist organizations. The ruling was issued on procedural grounds, and doesn't reflect a change in the EU's position on the group, according to Ha'aretz.
Swears he's not into that whole jihad thing –> A Texas plumber is receiving hate mail — and a few deaths threats — after the Islamic State released an image of their fighters firing a heavy weapon mounted on his old truck, complete with its magnetic sign. The man says he sold the truck in 2013 and has no idea how it ended up in the middle of the Syrian civil war. David Ferguson reports for Raw Story.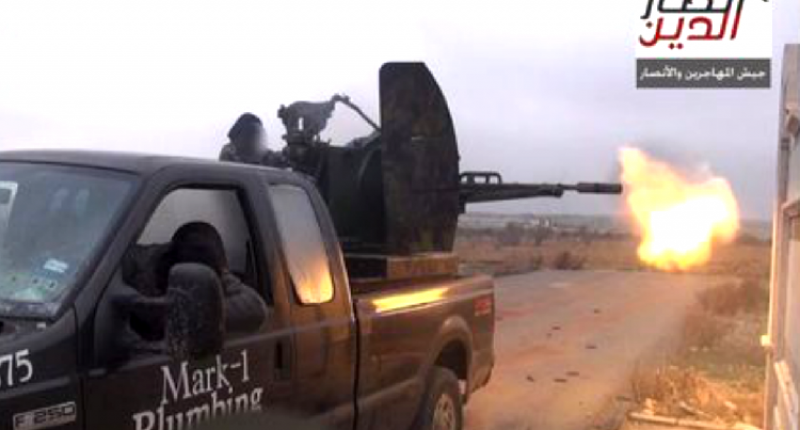 You can get our Morning Reads delivered to your inbox every weekday! Just enter your email address below…


This work is licensed under a Creative Commons Attribution-NoDerivatives 4.0 International License.