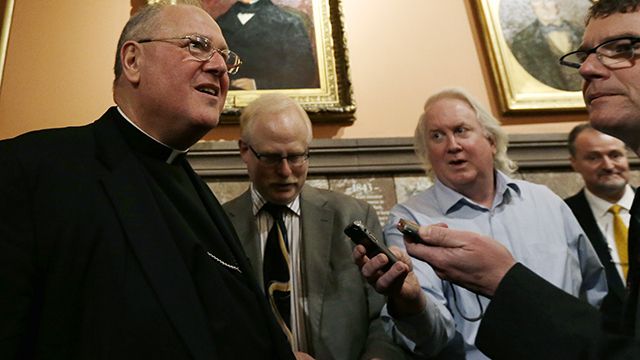 Cardinal Timothy Dolan talks to reporters after meeting with Gov. Andrew Cuomo at the Capitol on Tuesday, March 18, 2014, in Albany, New York. Dolan and bishops from around the state are advocating for a new tax credit for charitable donations made for educational purposes. The legislation would eventually add up to $300 million a year for education, with half going to public school programs and half going to scholarships for students who attend private schools. (Photo by Mike Groll/AP)
At the end of this week's edition of Moyers & Company, a conversation with public education historian and advocate Diane Ravitch, Bill mentions the current debate here in New York State over a proposal that would grant an individual tax credit of up to a million dollars for donations to schools, whether public or private.
Such a credit would include religious schools, and advocating for the tax credit is the Catholic archbishop of New York, Timothy Cardinal Dolan. "Anything we can do to help education to help our kids, we want to do it as vigorously as possible," the cardinal told a news conference as reported by The New York Times. But, The Times notes, the legislation is controversial and divisive:
Indeed, though 17 labor unions support the plan, saying it would help children of their members, leaders of those representing teachers see it as a thinly disguised voucher program redirecting state revenue to private schools. On Friday, hours after the State Senate approved plans to include the policy in this year's budget. Richard C. Iannuzzi, president of the New York State United Teachers, said it was a "fundamental and disgraceful attack" on public school pupils. The lawmakers, he said, "have chosen their benefactors, hedge funders and financiers over the 97 percent of New York's children who attend underfunded public schools."

In New York, the lobbying and public relations efforts have been paid for, in part, by the Coalition for Opportunity in Education, an advocacy organization founded by Peter M. Flanigan, an investment banker and former aide to President Richard M. Nixon, and the hedge fund billionaire Bruce Kovner, said Bob Bellafiore, a spokesman for the initiative's supporters.
Read the complete story at The New York Times.
Update: The Buffalo (NY) News reports that prior to the announcement of the official New York State budget, the individual tax credit plan for education "died in last-minute budget talks."