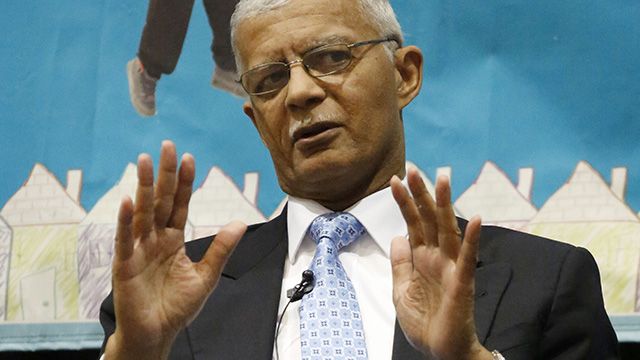 Jackson's late Mayor Chokwe Lumumba at a fundraising luncheon of 500 people for Operation Shoestring, a nonprofit group that does education and mentoring programs for low-income residents of central Jackson. November 14, 2013. (AP Photo/Rogelio V. Solis).
On February 25, Chokwe Lumumba, the mayor of Jackson, Miss., died suddenly, reportedly of a heart attack. He was 66 years old.
In the 1960s, Lumumba co-founded the Malcolm X Grassroots Movement, a black nationalist organization that advocated for reparations and for the creation of a separate republic with a "predominantly black government" in the southeastern states. A prominent civil rights attorney, Lumumba once helped rapper Tupac Shakur clear himself of aggravated assault charges, and as a member of the Jackson Human Rights Coalition he pressed Mississippi for a retrial in the murder case of Medgar Evers, the NAACP's first field officer in the state.
According to The New York Times, Lumumba was a respected civic leader who ran for city council in 2009 and was "urged by neighbors and politicians" to run for mayor last year. He won with 87 percent of the vote. His Times obituary notes that political office didn't temper his revolutionary views.
In an interview last year he continued to defend the Republic of New Afrika. The day after his election, he raised hackles by questioning Columbus's historical importance. And at his inauguration, he could not resist raising his fist in the black power salute and shouting an old slogan: "Free the Land!"
Just two weeks before he died, he spoke with Laura Flanders of GRITtv about his vision of "solidarity economics" for a YES! Magazine series on strong local economies. He believed that economic development and the creation of jobs must be a collective rather than individual effort. "The role of solidarity economics is central because it is the economic transition from what is to what must be," he told Flanders.
Early on in their conversation, Flanders asked him whether he thought he could be both a revolutionary and a mayor. He replied:
Mayors typically don't do the things we're trying to do. On the other hand, revolutionaries don't typically find themselves as mayor."

Change does not come on thoughts alone; because we have a revolutionary ideology and give speeches on it. It comes because you can change the material conditions of people, and get people to assist in the change, be the mainstay in the change in their conditions. And so, how do we achieve that, that's the real challenge for us.

We don't think we can do it in the way we did it in the '60s and '70s. We raised up millions of people in fiery speeches and that was good — I'm in love with that period — but at the same time, the people been suffering for a while and fiery speeches are not going to do it.

We've got to tell them how we're going to fix their streets; how we're going to feed them, how are they going to eat, where are they going to live. How are they going to avoid being in a neighborhood which goes unattended for so long that it becomes a target for urban renewal which is really just urban removal and then they lose their homes and they turn around and they've got condominiums there and they can't afford to buy a condo and then they're shuffled out to the outskirts of the city where once again, they find themselves in another community of poverty, or even in a community of poverty outside the city.

How the kids are going to get a real education as opposed to just showing up to school and being on the pipeline to prison? Those are the material things we've got to change. That's an exploration process. It doesn't require any less knowledge or commitment to the ideals we started off with, but it requires the ability to translate the message in ways that people can understand and become part of and can teach us. We have to understand the language of the people."
Flanders remembers Lumumba as an "extraordinary leader" who inspired his own community and "also disarmed his critics with a tireless commitment to building support for his twin goals of political and economic democracy."
To read the entire interview transcript, visit Yes! Magazine »