Gallup released an interesting finding today: white Americans' views of the country's current standing are decidedly gloomy, but people of color are significantly more optimistic. (The usual caveat that one shouldn't read too much into the findings of a single poll certainly applies.)
Overall, Americans are as likely to be positive (39 percent) about the current state of the country as they are to be negative (40 percent). However, the gap between whites' and nonwhites' views of where the country stands is wider than at any point in recent history, with nonwhites now almost twice as likely as whites to view the nation's situation positively.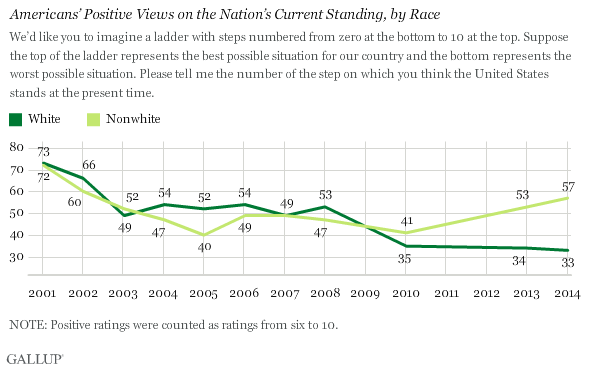 Gallup notes that during George W. Bush's presidency whites and nonwhites held more or less similar views of the course the country was on, although whites tended to be somewhat more optimistic. The largest gap before Obama's inauguration was 12 percentage points, which Gallup measured in 2005, shortly after Bush's re-election.
But that pattern "changed after the 2008 presidential election, when differences between the two racial groups started to get larger."
Between 2008 and 2010, the views of whites and nonwhites soured, likely reflecting the major economic challenges that erupted in late 2008. However, whites' views declined much more than nonwhites', resulting in a six-point gap in 2010 with nonwhites more positive than whites.

More than half of whites (53 percent) were positive about the country's current trajectory in January 2008 — 10 months before the presidential election. After President Barack Obama's first year in office, that percentage fell to 35 percent. Four years later, that figure is roughly the same.

Conversely, nonwhites have been increasingly positive about the United States' standing. While their assessments of current conditions dipped with the rest of the country's in 2010, nonwhites' views have increased 16 percentage points since then.
The pollsters offered a possible explanation for the widening perception-gap:
For nonwhites, his election could have signaled an inclusion they had not felt before. Whereas for whites, who largely identify as Republicans, Obama's big-government views and policies such as the Affordable Care Act, could have played a major role in their pessimism about where the nation is and where it will go.
While the polling question doesn't mention Obama, the researchers note that historically, different groups' opinions of how things are going vary significantly depending on which party controlled the White House. But as people of color have increasingly been alienated by the GOP, it's become harder to untangle differences according to partisanship and race. In today's poll, 57 percent of nonwhites have a positive view of America's standing, as do 54 percent of Democrats.