This post originally appeared at ThinkProgress.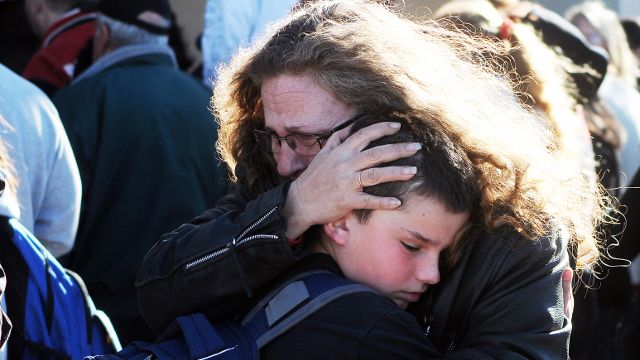 A woman hugs a student at a staging ground set up at the Roswell Mall following a shooting at Berrendo Middle School, Tuesday, Jan. 14, 2014, in Roswell, N.M. A shooter opened fire at the middle school, injuring at least two students before being taken into custody. (AP Photo/Roswell Daily Record, Mark Wilson)
Last year was supposed to be a year of action to curb gun violence in our schools. But three weeks into the new year, statistics suggest that the problem could actually be worsening.
Though the sample size is far too small to draw any definitive conclusions, 2014 is off to a deadly start: in the first 14 school days of the year, there have been at least seven school shootings. For sake of comparison, there were 28 school shootings in all of 2013, according to gun violence prevention group Moms Demand Action.
Purdue University is the most recent, when a 23-year-old teaching assistant fired four shots inside a campus building on Tuesday, killing a 21-year-old senior. One day earlier, a student was hospitalized after being shot near the athletic center on the campus of Widener University in Pennsylvania. And last week, there were at least three other school shootings, resulting in the hospitalization of five students between the ages of 12 and 18.
That number could have been even higher were it not for several near-misses. An eighth grader was arrested in Georgia last week after he brought a gun to school on consecutive days and robbed a classmate. On Tuesday, Portland police rushed to an area high school after a student was reportedly showing off his gun to a fellow classmate during lunch. And early on Wednesday four teenagers were arrested after they were seen pointing a gun at a school bus in Norfolk, Va.
Gun advocates at the National Rifle Association and elsewhere spent months after the tragic shooting in Newtown, Conn., calling for even more guns to be placed inside of schools in the form of armed security officials. And while many schools have indeed introduced so-called "school resource officers" in the last year, there is little evidence they are doing any good at all. Just about the only discernible impact of adding security officials into schools is a dramatic increase in the number of students arrested, sometimes for transgressions such as forgetting to wear a belt. More alarmingly, there have been instances of officers forgetting their guns inside bathrooms used by students or accidentally firing their guns inside of crowded high schools.