This article first appeared in The Institute for Policy Studies' Too Much newsletter.
---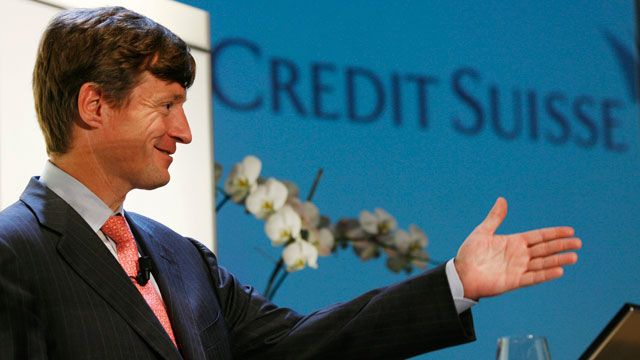 Brady Dougan, CEO of Credit Suisse. (AP Photo/Keystone, Steffen Schmidt)
Something astounding is happening in Switzerland. For the first time ever, voters in a modern developed nation are going to be voting on whether to create what amounts to a "maximum wage."
The vote will come Sunday, November 24, on a ballot initiative that bans any Swiss corporate executive compensation that runs over 12 times worker pay.
In effect, under this "1:12 Initiative for Fair Pay," no Swiss company would be able to pay its top executives more in a month than the company's lowest-paid workers make in a year.

Swiss corporations currently compensate their top execs more generously than any other nation in continental Europe. At pharmaceutical giant Roche, CEO pay runs 236 times the firm's lowest wage. At Nestle, the divide spreads 188 times.

Gross margins like these four years ago caught the attention of activists in Juso, the youth wing of Switzerland's Social Democratic Party. The activists sensed growing public outrage at a corporate pay system that has, as former Juso president Cédric Wermuth recently related, "greedy managers earning millions while other people earn too little for living."
Juso decided to challenge corporate pay inequality head-on, through Switzerland's "direct democracy" initiative process. Under current Swiss law, propositions that gain 100,000 signatures can trigger a national referendum.
The "1:12″ initiative that Wermuth and his Juso vice-president Mattea Meyer organized would go on to gain broad union support and backing from Switzerland's top two progressive parties, the Social Democrats and the Greens.
This past spring, the 1:12 effort filed enough signatures for ballot status — and Corporate Switzerland has been feverishly attacking the initiative ever since.
Any move to limit CEO pay to 12 times worker pay, charges SwissHoldings, the federation of Swiss-based multinationals, would constitute "a frontal attack on freedom" — and "prosperity," too! If the measure passes, the SwissHoldings anti-1:12 manifesto declares, "almost all" of Switzerland's 57 corporate giants "would be forced to restructure or move parts of their companies abroad."
One Swiss lawmaker, Zurich's Ruedi Noser, has ratcheted up the hysterics to an even higher level. A "yes" vote on the 1:12 proposition, he's claiming, would turn Switzerland into the "North Korea of Europe."
But Swiss society, 1:12 supporters counter, has functioned quite successfully in the not-so-distant past with quite narrow gaps between executive and worker compensation. In 1984, points out the Swiss Denknetz think tank, CEOs in Switzerland only averaged six times more in pay than average Swiss workers.

Many Swiss today still remember those more equal times, one reason why headlines about 21st century executive paydays — like the $100.5 million Credit Suisse CEO Brady Dougan grabbed in 2010 — so infuriate the general public.
In 2007, Swiss chief execs nationwide averaged 56 times more than average worker pay. But big companies pay their execs far more, the Swiss trade union federation points out and these execs desperately want their gravy trains to continue. Nestle, the drugmaker Novartis and other Swiss companies have been bombarding their employees with letters decrying the dangers 1:12 poses.
Swiss corporate execs unleashed a similar political blitz earlier this year when corporate gadfly Thomas Minder, a successful entrepreneur, led a campaign to give shareholders more say over top executive pay — and ban executive new-hire and "golden parachute" bonuses.
Swiss multinationals bitterly opposed Minder's proposal. But his initiative passed anyway this past March, with a stunning 67.9 percent of the vote.
Corporate interests don't have to reveal how many millions they're pouring into the campaign to kill the 1:12 initiative and some observers are estimating that initiative opponents may be outspending supporters by as much as 50 times.
Adding to the huge drumbeat against 1:12: official opposition from Switzerland's Federal Council, the country's ministerial cabinet. The Swiss media, meanwhile, have been overwhelmingly hostile as well.
"No major Swiss newspaper is supporting the 1:12 initiative," Juso activist Mattea Meyer points out and only about 15 percent of major media coverage, she estimates, has been friendly to the pay cap effort.
Remarkably enough, given this deeply unequal political playing field, the 1:12 initiative has remained competitive in the opinion polls. In October, one survey had the measure in a virtual dead-heat, with 44 percent both pro and con.
Polling released last week does have the "no" side gaining ground and passage this Sunday, observers feel, remains a longshot. But however the vote goes, activist Cédric Wermuth stresses, egalitarians have made substantial progress.
"We've launched," he notes, "a major debate about wage equality and a just income distribution, a subject regarded as taboo before."
Advocates for the 1:12 initiative see their effort as part of a broader "strategic counter-project" to reverse top 1 percent-friendly rule changes that have made Switzerland so much less equal over recent decades and next steps are filling the Swiss referendum pipeline.
Among these next steps: an initiative to create a basic minimum income for everyone in Switzerland — at the equivalent of $2,800 a month — and campaigns to put in place both a stiff inheritance tax and a new tax on foreigners using Switzerland as a tax haven.
The Swiss 1:12 activists see themselves as part of a global effort and 1:12-like campaigns, they note proudly, have taken root in France and Germany.
"We stay in close contact with them," says Cédric Wermuth, who currently serves as a member of Switzerland's federal parliament.
The Swiss 1:12 activists are also staying in close contact with leading global egalitarian thinkers. They've hosted talks in Zurich, Basel and Bern, for instance, from the British epidemiologist Richard Wilkinson, one of the world's foremost authorities on the impact of inequality on our daily lives.
The 1:12 effort, Wilkinson noted last week, has already made a major contribution — by helping the entire world understand that businesses "do not have to be organized as systems for the undemocratic concentration of wealth and power."