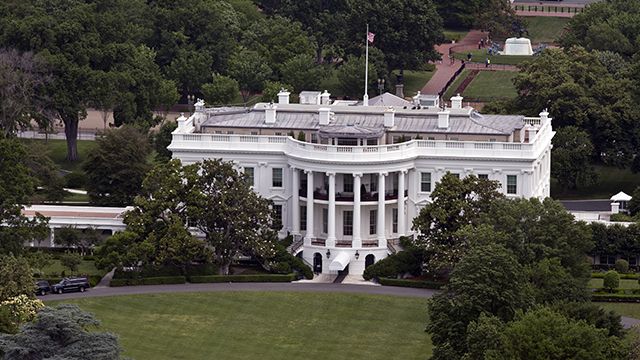 The White House, as seen from the Washington Monument. (AP Photo/Alex Brandon)
After three years of prodding from environmental advocacy groups, the administration is finally making good on a 2010 promise to install solar panels at the White House while the first family was on vacation in Martha's Vineyard last week. The project, a staffer told the Washington Post, is "part of an energy retrofit that will improve the overall energy efficiency of the building."
In his June climate speech, Obama announced a new goal: to have 20 percent of the federal government's energy usage come from renewable power by 2020. That includes making our Army, Navy and Air Force more sustainable, a move that many commanders say would give our military a tactical advantage, but that has run into opposition in both the House and Senate.
The new solar panels on the White House will make a very small, largely symbolic dent in achieving Obama's goal. But environmental activist Bill McKibben — whose group 350.org originally solicited a promise to install solar panels from Obama — said that the new panels are an important step.
"Better late than never — in truth, no one should ever have taken down the panels Jimmy Carter put on the roof way back in 1979," said McKibben. "But it's very good to know that once again the country's most powerful address will be drawing some of that power from the sun."
Carter installed the panels to heat water during his administration, guessing (with his presidency-defining pessimism, it would seem) that to future generations the panels would "either be a curiosity, a museum piece, an example of a road not taken, or it can be just a small part of one of the greatest and most exciting adventures ever undertaken by the American people." But the Reagan administration had them taken down — George C. Szego, the engineer who persuaded Carter to install the panels, later said that Reagan's Chief of Staff Donald T. Regan "felt that the equipment was just a joke."
Those same panels ended up heating water for a dining hall at Unity College in Maine. In September, 2010, McKibben and a group of Unity students returned them to the White House, along with a petition signed by 50,000 people asking the administration to install new panels.
The Washington Post reports that, even if Obama's home has not been greened until now, the administration has taken other steps toward its goal of a 20 percent reduction in fossil fuels by 2020.
The administration has doubled the number of hybrid cars and truck in the federal fleet, increased the government's use of renewable energy to 7 percent, cut the federal government's greenhouse gas emissions by 15 percent and committed $2 billion to upgrade federal buildings' energy efficiency through contracting requirements at no up-front cost to taxpayers.

So far these measures have collectively saved 7 million gallons of gas and been equivalent to permanently removing 1.5 million cars from the road, according to the White House.
Last month, House Republicans passed an energy budget bill that would slash funding for renewable energy and energy efficiency programs by half, and would cut funds for research into new sources of energy by more than two thirds. The Democrat-run Senate won't agree to the bill, and the president has promised to veto it if they did, but the House legislation signals that sustainability programs will be a target during next month's budget debate.