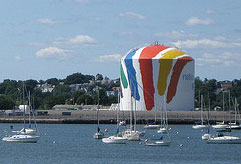 The concept of disruptive, expressive nuns certainly didn't start with Nuns on the Bus. If you've driven into Boston via the Southeast Expressway, your day was likely brightened by Sister Corita Kent's 150-foot "rainbow swash" painted on the side of a liquified natural gas storage tank. Sister Corita (1918-1986) spread her vision of peace and love — core values of both her era and her religion — through riotously colorful prints infused with elements of 1960s pop culture, advertising and the spiritual realm.
One print — a field of blue with red and white dots and the words "Enriched Bread" — evokes both Wonder Bread and the Biblical imperative to feed the poor. A bright yellow screenprint of Pope John XXIII reads "Let the Sunshine In."
And like those nuns en route to Washington right now, Sister Corita was no stranger to controversy. Her playful work was apparently too subversive for some in the church hierarchy. As The Washington Post's Melinda Henneberber recounts, in 1964, when Sister Corita ran the art department at Immaculate Heart College in Los Angeles, the local bishop tried to bar her from exhibiting a print called "Blessed Virgin Mary," emblazoned with the words "the juiciest tomato of them all." The archdiocese told her to stop making such "weird and sinister" art.
After the Second Vatican Council gave nuns more leeway to live in the modern world, Sister Corita was part of an effort to revise her order's charter; for starters, abandoning the old-fashioned habit. The bishop responded by firing the nuns from Catholic schools in the archdiocese. The feud went all the way to the Vatican, which sided with the bishop. In 1968, Corita left the order.
In an article published this week, "Before their were 'nuns on a bus' there was Sister Corita Kent," Henneberber praises today's "radical nuns" for carrying forth with their social justice agenda while sticking with their calling:
"Whether [Sister Corita's] retreat was a capitulation or a triumph is not for me to say. And though it both pains and puzzles me to see the consistency with which the higher-ups insist on crushing some of our juiciest tomatoes, I am so grateful to today's American sisters for refusing to be run off."
Sister Mary Corita's work is on display at The National Museum of Women in the Arts in Washington, D.C. from now through July 15, 2012.