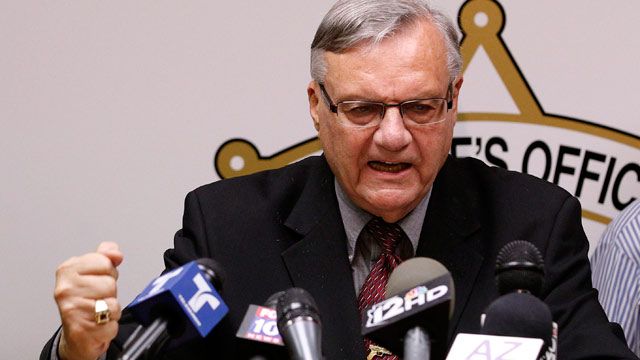 A defiant Maricopa County Sheriff Joe Arpaio, pounds his fist on the podium as he answers questions regarding the Department of Justice announcing a federal civil lawsuit against Sheriff Arpaio and his department, during a news conference Thursday in Phoenix. (AP Photo/Ross D. Franklin)
Joe Arpaio, the 79-year-old  "love him or hate him" Maricopa County Sheriff, was hit with a civil rights lawsuit from the U.S. Justice Department this week, alleging civil rights violations, racial profiling and unlawful arrests by his "volunteer posse." Arpaio, who doesn't shy from controversy, says the charges are politically motivated and vowed to fight the suit.
Thomas Perez, assistant attorney general for the Civil Rights Division, said, "Leadership starts at the top and all of the alleged violations that are outlined in the complaint are the product of a culture of disregard for basic rights… that starts at the top and pervades the organization."
In 2009, NOW on PBS Senior Correspondent Maria Hinojosa interviewed Arpaio as an addendum to an Exposé report on immigration policy in Arizona, in collaboration with local reporters from Arizona's East Valley Tribune.
A contentious, unaired part of that interview appeared only on the NOW on PBS website. In it, the tough talking sheriff candidly addresses his ego, defends his controversial tactics and presses Hinojosa on why she uses the term "undocumented" instead of "illegal" to describe people engaging in illegal immigration.
Also, see how PBS Ombudsman Michael Getler addressed the controversy surrounding the Hinojosa-Arpaio interview.