A Walk Through the 20th Century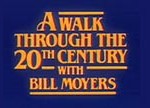 Countless observers have attempted to make sense of the last century — a time of rampant technological change, wild economic fluctuations, two world wars, two remarkable Roosevelts, and at least two homicidal dictators bent on world domination.
Only a few historians and journalists have succeeded in developing a full-fledged portrayal of the period, and no one has woven a tapestry of greater depth and richness than Bill Moyers, the driving force behind this classic 19-part series. Brimming with archival images and footage derived from exacting research, these programs have little to do with the charts and timelines of routine history lessons but instead represent both a shrewd analysis of major events and a poetic chronicle of the century.
Extra: Read a 1982 review of the series in The Christian Science Monitor. (1982-1984)