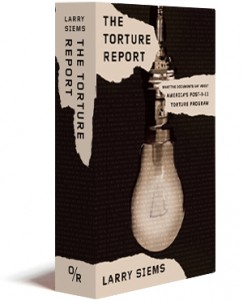 Author Larry Siems writes: Chapter 4 of The Torture Report connects the interrogations of Abu Zubaydah, Jose Padilla, and Binyam Mohamed, three people who were allegedly involved in a 'dirty bomb' plot that grew more fantastical the more the men were tortured. It traces how torture begat torture, first because bad information extracted through abusive interrogations led to more torture and more bad information, and finally because interrogations were being conducted not only, as the Bush administration has insisted, to produce new intelligence to thwart impending attacks but also to force confessions and extract information that it would use to justify its detention and torture of others.
At the center of this chapter's "Ponzi scheme of torture" is Binyam Mohamed, a UK-based Ethiopian émigré who was arrested in Pakistan in April 2002, abused, flown to Morocco and tortured for 18 months, then flown to a secret CIA prison in Afghanistan, where he was again tortured, and finally delivered, in September 2004, to Guantánamo. Once called Jose Padilla's accomplice in several diabolical terror plots and identified, with Abu Zubaydah, as the source of information about those planned attacks, Mohamed was released last year and is now living as a free man in London.
…
When Abu Zubaydah was captured on March 28, 2002, seven others were also taken into custody in the raid on the safe house in Faisalbad, Pakistan. Six of these men were sent directly to Guantánamo. The seventh, a 19 year-old Syrian youth named Noor al-Deen, who was also shot during the raid, was not. As The Washington Post has reported, "Perhaps because of his youth and agitated state, he readily answered US questions, officials said, and the questioning went on for months, first in Pakistan and later in a detention facility in Morocco." CIA agent John Kiriakou, who participated in the raid, told the reporter, "He was frightened—mostly over what we were going to do to him. He had come to the conclusion that his life was over."[1]
What al-Deen told his captors, and what he evidently repeated after being subjected to extraordinary rendition and imprisoned in Morocco, was that Abu Zubaydah, whom he reportedly idolized, was not a senior al-Qaida figure, but rather someone who arranged travel and logistics for recruits looking for training in a variety of camps, some affiliated with al-Qaida and some, like the Khalden camp with which Abu Zubaydah had been associated in the 1990s, frequently at odds with al-Qaida and geared to training young men volunteering to fight in Bosnia and Chechnya. As such, though he interacted frequently with al-Qaida's leaders, Abu Zubaydah was neither a planner nor a party to plans for the September 11, 2001 attacks or other major al-Qaida operations.[2]
Despite al-Deen's warnings, on April 9, 2002, a little over a week after Abu Zubaydah had been strapped to a gurney and flown to the CIA black site in Thailand, George Bush told an audience at a Connecticut Republican Committee fundraising luncheon, "The other day, we hauled in a guy named Abu Zubaydah. He's one of the top operatives plotting death and destruction on the United States. He's not plotting and planning anymore. He's where he belongs."[3]
The next day, Binyam Mohamed was arrested with a false passport at Karachi airport as he tried to board a flight bound for London, where he had lived as a legal immigrant for the past seven years.
Mohamed, who was 23 at the time, was born in Ethiopia but left the country in 1992 when his father, an executive of the state-owned airline, looked for refuge overseas following the collapse of the regime of Haile Mengistu. They lived in the Washington DC area for two years, then tried the UK, and then, at 16, Binyam found himself on his own in London when his father decided to return to the US for work. He attended high school and junior college, but by the time he was 20 he had an admitted drug problem. He got a job as a janitor in a West London mosque when he was 22, converted to Islam, and a few months later flew to Islamabad with the intention, he has insisted, of kicking his drug habit for good.
He has admitted spending time at a guest house in Jalalabad, where he met Chechen rebels, and then taking a 45-day "boot camp" course that included small arms training at a camp in Afghanistan, hoping, he says, to support the cause in Chechnya. He fled to Pakistan in the stream of refugees following the US invasion of Afghanistan, determined to return to London. He booked a flight on April 3, 2002 but was turned away because his passport looked suspicious. He tried again a week later, and this time was apprehended. He spent 10 days in a Pakistani prison without being interrogated. Then, on April 20, 2002, he was moved to a Pakistani intelligence service interrogation center, where he was greeted by FBI agents. "He asked for an attorney and refused to speak with them, since he said the Americans had nothing to do with him," his attorney recorded in notes from his first interview with his client in Guantánamo in May of 2005. Mohamed told him, "I refused to talk in Karachi until they gave me a lawyer. I said it was my right to have a lawyer. The FBI said, The law has been changed. There are no lawyers. You can cooperate with us—the easy way, or the hard way."[4]
His attorney's notes continue:
There was 4 small cells, each 2m x 2.5m. While there, he was hung up for a week by a leather strap around the wrists. He could only just stand. He was only allowed down to go to the toilet twice a day. He was given food, normally rice and beans, once every second day. "It was the first thing that happened to me. I just thought it would end. There were threats of beating, though.

Mohamed described four FBI interrogators: "Chuck," a white male around 40; "Terry," a white male around 50; an unnamed light-skinned black male, 35, who spoke Swahili, and "Jenny," a fortyish white female.

The FBI seemed to think that because he had lived in the US for a short while he had plans to do something there. "But I'm going to the UK," Binyam would say.

The FBI also seemed to think that he was some kind of top al-Qaida person.

"How? It's been less than six months since I converted to Islam! Before that, I was into using drugs," Binyam would say. Indeed, he had traveled in part to help try to kick the habit.

On the first day of interrogations, 'Chuck' said, "If you don't talk to me, you're going to Jordan. We can't do what we want here, the Pakistanis can't do exactly what we want them to. The Arabs will deal with you."

It was at this point that Binyam told them his name and address. Chuck checked with the British and this was true.

'Terry' asked the same questions. "I'm going to send you to Jordan or Israel," he said. Then he threatened to send him to the British. "The SAS know how to deal with people like you."

It was after Terry's visit that they started the torture.

The Pakistanis could not speak English, and Binyam could not understand them. They would just come in and beat him with a leather strap. It had a handle, and then leather with a joint making the rounded end part whip back on him.

One Pakistani pointed some kind of gun at Binyam's chest. it was a semi-automatic, and he loaded it in front of Binyam. "He pressed it against my chest. He just stood there. I knew I was going to die. He stood like that for five minutes. I looked into his eyes, and I saw my own fear reflected there. I had time to think about it. Maybe he will pull the trigger and I will not die, but be paralyzed. There was enough time to think the possibilities through."

'Chuck' came in after that. He said nothing. He stared at me and left."[5]
This interrogation lasted for a week. It played out at exactly the same time that the FBI and CIA interrogation teams were engaged in the tug-of-war over the interrogation of Abu Zubaydah in the CIA's black site in Thailand.[6] Mitchell's CIA interrogators had interrupted the apparently fruitful questioning of FBI agents Ali Soufan and his partner and instituted nudity and sleep deprivation, and Abu Zubaydah had stopped talking. As Soufan told the Senate Judiciary Committee in his May 13, 2009 testimony, "After a few days of getting no information, and after repeated inquiries from DC asking why all of a sudden no information was being transmitted (when before there had been a steady stream), we again were given control of the interrogation."[7
"We then returned to using the Informed Interrogation Approach." Soufan told the Senate. "Within a few hours, Abu Zubaydah again started talking and gave us important actionable intelligence. This included the details of Jose Padilla, the so-called 'dirty bomber.'"[The New York Times, April 25, 2004, available at http://www.nytimes.com/2004/04/25/national/25PADI.html?pagewanted=1)" href="#footnote19_x6hj4x2″>8]
In The Dark Side, Jane Mayer reported, "Abu Zubaydah disclosed Padilla's role accidentally, apparently. While making small talk, he described an al-Qaida associate he said had just visited the US embassy in Pakistan. That scrap was enough for authorities to find and arrest Padilla."[9] Despite the extraordinary secrecy surrounding the CIA's RDI program, on April 23, 2002, BBC news reported "The al-Qaida terror network knows how to build a 'dirty bomb,' a senior Osama Bin Laden aide is reported to have told US interrogators. Abu Zubaydah—Bin Laden's chief of operations until his capture in Pakistan last month—said the organization also knew how to smuggle it into the United States, unnamed US officials have been quoted as saying." The report went on
"But the officials said there were highly skeptical of the credibility of Abu Zubaydah's claim, who also recently said al-Qaida was targeting banks in the United States. That report was the basis of an FBI alert last week.

"It could be he's not being truthful. It could be that he's boasting," a US official told the Associated Press news agency."[10]
Nevertheless, the dirty bomb story immediately began to shape and dominate interrogations. "Every interrogator would ask questions about it," a former CIA officer said in an interview earlier this year.[11] That week in Pakistan, Binyam Mohamed's FBI interrogators asked him if he had been trained in radiological weapons. Mohamed told 'Chuck' that when he was at the safe house in Afghanistan, he had visited a website with instructions on how to build an atomic bomb. The instructions, in fact, were from a 1979 satirical article by Barbara Ehrenreich, Peter Biskind, and Michio Kaku titled "How to Make Your Own H-Bomb"; the piece included directions such as:
First transform the gas into a liquid by subjecting it to pressure. You can use a bicycle pump for this. Then make a simple home centrifuge. Fill a standard-size bucket one-quarter full of liquid uranium hexafluoride. Attach a six-foot rope to the bucket handle. Now swing the rope (and attached bucket) around your head as fast as possible. Keep this up for about 45 minutes. Slow down gradually, and very gently put the bucket on the floor. The U-235, which is lighter, will have risen to the top, where it can be skimmed off like cream.[12]
"It was obviously a joke: it never crossed my mind that anyone would take it seriously," Mohamed said in an interview earlier this year.
But that's when [Chuck] started getting all excited. Toward the end of April he began telling me about this A-bomb I was supposed to be building, and he started on about Osama Bin Laden and his top lieutenants, showing me pictures and making out I must have known them.[13 ]
Continue reading this chapter at The Torture Report website. The entire book is available to read online.
Footnotes
1. Peter Finn and Joby Warrick, "Detainee's Harsh Treatment Foiled No Plots," The Washington Post, March 29, 2009
2. Noor al-Deen was reportedly eventually transferred from Morocco to Syria, but his current whereabouts are unknown
4. Declaration of Clive Stafford-Smith in Support of Plaintiffs'-Appellants' Opposition to United States' Motion to Dismiss, Exhibit A, Mohamed v. Jeppesen Dataplan, Inc., No. 08-15693 (9th Cir.), 1
5. Declaration of Clive Stafford-Smith, Exhibit A, 1-2
8. There are conflicting accounts of what these details were, exactly. In 2004, The New York Times reported that Abu Zubaydah "did not name Mr. Padilla but described him physically and referred to him as a Latin American man who went by a Muslim name, an official with the Department of Homeland Security said. Intelligence agents began searching commercial and law enforcement databases under that Muslim name. At about the same time, Mr. Padilla was briefly detained in Pakistan on a passport violation. This helped a customs intelligence agent link the name give by Abu Zubaydah to "an Arab alias not mentioned by the detainee," the official said. That "alias" led the agent to Mr. Padilla's Florida driver's license, the official said. The photo was shown to "a detainee," presumably Abu Zubaydah, who confirmed that Mr. Padilla was the "Latin American" he had been describing. The Pakistanis also viewed the photo and made a confirmation." (Deborah Sontag, "Terror Suspect's Paths From Streets to Brig," The New York Times, April 25, 2004
9. Jane Mayer, The Dark Side, pg. 156.
10. "Al-Qaida Claims 'Dirty Bomb' Know-How," BBC News, April 23, 2002
11. David Rose, "How MI5 colluded in my torture: Binyam Mohamed claims British agents fed Moroccan torturers their questions," The Daily Mail, March 8, 2009
12. Barbara Ehrenreich, "My Unwitting Role in Acts of Torture," The Guardian, February 21, 2009. "How to Make Your Own H-Bomb" (no longer available online)
13. David Rose, "How MI5 colluded in my torture: Binyam Mohamed claims British agents fed Moroccan torturers their questions," The Daily Mail, March 8, 2009
Excerpted from The Torture Report, Chapter 4, Part 1 — A Ponzi Scheme of Torture