The morning after the presidential town hall debate, we posted a question to our Facebook friends: "What would you have asked the candidates if you had been in the audience at last night's debate?" We got hundreds of replies on a range of topics. From now until Election Day (Nov. 6), we'll do our best to answer your questions for the candidates by researching what they've said in the past.
Susan Swafford Taylor wrote:
"I am concerned about global warming. What do they each have to say about it; do they plan any interventions for alleviating it?"
---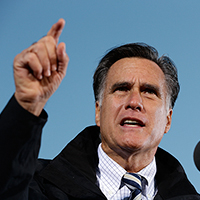 Despite record-breaking temperatures, vanishing glaciers, rising seas, droughts and wildfires, climate change wasn't discussed in any of the four presidential or vice presidential debates, and rarely has been mentioned on the campaign trail. On the contrary, the two candidates have each tried to one-up each other in terms of their support for carbon-emitting coal, oil and natural gas.
Mitt Romney's previous statements on climate change show that his stance on the issues is, shall we say, evolving.
In 2004, while governor of Massachusetts, Romney introduced that state's Climate Protection Plan, "an initial step in a coordinated effort to reduce emissions of greenhouse gases (GHGs) and improve energy efficiency in the Commonwealth — two inseparably linked goals," according to the plan's executive summary. As governor, Romney also supported a regional cap-and-trade agreement, but ultimately declined the invitation to join.
In his 2010 book, "No Apology," Romney wrote, "I believe that climate change is occurring — the reduction in the size of global ice caps is hard to ignore. I also believe that human activity is a contributing factor. I am uncertain how much of the warming, however, is attributable to factors out of our control."
But a few months later, Romney told a voter at a campaign event in Pittsburgh, "My view is that we don't know what's causing climate change on this planet. And the idea of spending trillions and trillions of dollars to try to reduce CO2 emissions is not the right course for us. My view with regards to energy policy is pretty straightforward. I want us to become energy secure and independent of the oil cartels. And that means let's aggressively develop our oil, our gas, our coal, our nuclear power."
Since he says he's not even sure what's causing climate change, it's not surprising that Romney hasn't yet presented a plan for mitigating the problem. The Romney campaign's official website doesn't include climate change, global warming or the environment as issues. His "energy" issue page says he'll open new areas for offshore drilling, approve the Keystone XL pipeline, and "streamline the gauntlet of reviews, processes, administrative procedures, and lawsuits that mire so many new projects in red tape" — in other words, relax regulations.
---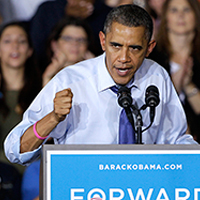 President Obama hasn't been nearly as outspoken about climate change this election cycle as he was in 2008, but his basic position is clear.
"My plan will continue to reduce the carbon pollution that is heating our planet, he said in his acceptance speech at the Democratic National Convention in September, "because climate change is not a hoax. More droughts and floods and wildfires are not a joke. They are a threat to our children's future."
The president lays out his plan, which he refers to as "All of the Above" in an interactive on his website. It calls for increasing natural gas production, investing in so-called "clean coal," and increasing the use of biofuels, wind, solar and nuclear power. Much of the plan laid out on the site is already in progress.
During President Obama's watch, U.S. carbon emissions dropped to a 20-year low. That was due in part to unusually warm weather and a reduced demand for gasoline in a weak economy, but the administration has also taken some concrete actions to help lower emissions and fight climate change.
In 2009, Obama signed the $787 billion economic stimulus bill which included $90 billion for clean energy projects. That money has helped build the world's largest wind farm, solar farms, biofuel refineries, electric car battery factories and smart electrical grids. (Much has been made of the fact that Solyndra, one of the solar companies that received a loan guarantee as part of the stimulus package, later declared bankruptcy. According to the Energy Department, about 1,300 renewable energy companies received some sort of federal funding; a total of five went bankrupt.)
In August the administration announced new automobile fuel efficiency standards mandating an average fuel economy of 54.5 miles a gallon by 2025 — compared to an average of about 29 miles a gallon today. The new rules will cut fuel consumption — and therefore greenhouse gas emissions — nearly in half.
Take Action
At climatesilence.org, you can sign a petition demanding that the candidates speak more candidly about climate change.