With the separation of church and state so much in the news these days — whether Rick Santorum's "makes me want to throw up" attack on John F. Kennedy's 1960 speech before the Greater Houston Ministerial Association or the current debate over reproductive rights and varying interpretations of religious freedom — perhaps a little history lesson's in order.
Which is just what's provided by an award-winning documentary, The Lord Is Not on Trial Here Today, currently making the rounds of public television. Different PBS stations have aired the film over the last year but it's getting a re-launch on Friday, March 16, as part of Women's History Month. Go to the documentary's website to see if it's being telecast in your area.
Written, produced and directed by Jay Rosenstein, and narrated by David Ogden Stiers (of M*A*S*H fame), The Lord Is Not on Trial Here Today is the story of McCollum v. Board of Education, the 1948 Supreme Court decision won by establishing and affirming the separation of church and state in public schools.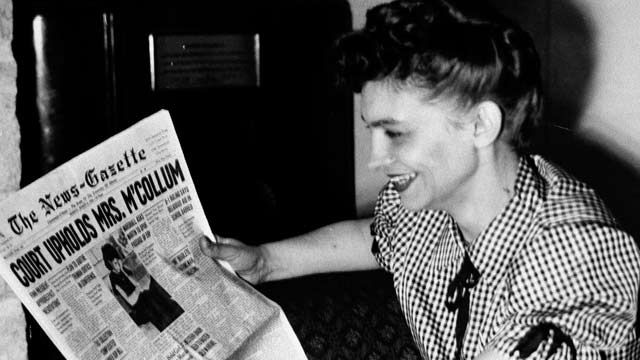 Vashti McCollum smiles as she reads of her victory before the U.S. Supreme Court in her suit to bar religious eduction from the Champaign high schools in Champaign, Illinois, March 8, 1948. The Supreme Court agreed by a 6-1 vote with Mrs. McCollum and invalidated the practice of having religious education in public schools during the school day. (AP Photo)
Vashti McCollum was a mother in Champaign, Illinois, whose son was pressured into attending once-a-week "voluntary" religious instruction at a local public school. When she pulled him out of the class and sued the board of education, all hell broke loose. She was branded as "that awful woman" by neighbors, "that atheist mother" by newspapers around the country and smeared as a Communist — there was even an attempt in the Illinois state legislature to outlaw McCollum and her husband from ever again teaching at the local university. The son was subjected to so much bullying and abuse by other kids his parents transferred him to a private school in New York State. (The film's title comes from a statement made by the school board's attorney.)
After what Mrs. McCollum described as "three years of headlines, headaches and hatred," she was victorious in the Supreme Court, an overwhelming 8-1 decision that, as Jay Rosenstein writes, "shocked the nation and made the McCollums public enemy #1 of the American religious establishment." The repercussions resonate to this day, from arguments over displays of the Ten Commandments in government buildings to Christmas manger scenes on courthouse lawns.
Perhaps the most direct, contemporary parallel is the case of 16-year-old Jessica Ahlquist, who recently filed a successful lawsuit to have a prayer removed from the wall of her high school auditorium in Cranston, Rhode Island. Like Vashti McCollum, she received threats, although these days they come from the Internet and talk radio. One state legislator called her "an evil little thing." The New York Times called her "brave."
Watch the trailer of The is Not on Trial Here Today:
Addendum: A new national survey conducted by the Public Religion Research Institute in partnership with Religion News Service finds that 56 percent of Americans "do not believe that the right of religious liberty is being threatened in America today. Roughly 4-in-10 (39%) believe religious liberty is under attack." Read the complete results of the survey.